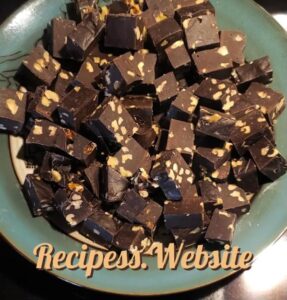 PAULA DEEN'S 5-MINUTES FUDGE
This Chocolate Pecan Fudge recipe comes together in just a few minutes, making it ideal for giving as gifts, munching on, and presenting at any event. This fudge, whether with or without nuts, is a crowd-pleasing confection at any time of the year!!!
Making fudge in the traditional, old-fashioned style requires a lot of effort and precision. Making fudge in the traditional manner calls for the use of a candy thermometer in addition to devoting a significant amount of time to stirring the hot liquid over the burner. Even though they are delicious, in my view they are not always worth the time, effort, or specialized equipment required to make them. That's why you need to try this version as soon as you can!! I'm sure that you'll love it!!
INGREDIENTS:
1⅔ Cups.Of granulated white sugar.
⅔ Cup.Of evaporated milk.
4 large spoons.Of soft butter.
½ small spoon.Of salt.
Semi-sweet chocolate chips; I used a 6-ounces Pkg.
16 marshmallows.
1 small spoon.Of vanilla extract.
½ Cup.Of chopped pecans.
TO MAKE THIS FUDGE RECIPE, YOU NEED TO FOLLOW THE STEPS DIRECTED BELOW:
First Step – Place chocolate chips, sugar, milk, butter, and salt in a saucepan. Heat the mixture over low heat until the chocolate has melted.
Second Step – Take the pan off the heat and toss in the vanilla, nuts, and marshmallows until they are all melted. Mix everything together well.
Third Step – After it has cooled, pour it into a square pan that is 8 inches deep and then cut it into squares.
Fourth Step – This recipe would make between 16 and 24 candies, which should equal around 2 1/2 pounds of candy. However, you may easily increase it by a factor of two or even three!!!
RECIPE NOTE:
If  you're having difficulties getting your fudge to set, try first mixing the sugar, milk, butter, and salt, then bringing the mixture to a boil while stirring for five minutes. After that, add the chocolate and continue stirring until it melts. From that point on, the guidelines should be followed exactly as described.