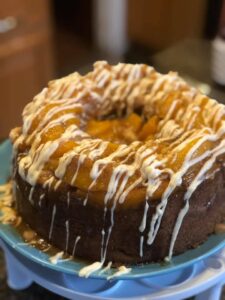 HOW TO MAKE PEACH COBBLER POUND CAKE
The Peach Cobbler Pound Cake is a silky cream cheese bundt cake that has been prepared with all of the flavors of a peach cobbler. The moist pound cake reminiscent of peach cobbler is studded with pieces of fresh peaches throughout the batter. After that, it is topped with more peaches that have been doused in brown sugar that has been caramelized and cinnamon.
This sweet dish has the flavor of a lazy day in the park. It is everything that you love about a gooey peach cobbler cooked into a cake form so that it is easier to carry. This is the ideal sweet dish to bring to backyard barbecues and get-togethers with friends.
Even though there are a lot of components, your mixer handles most of the work, even though the instructions in the recipe may appear intimidating.
When peaches are in season, it is ideal to use fresh peaches that have reached full ripeness. When you gently press a sweet peach, it should feel solid yet have just a tiny bit of giving in it. Sweet peaches should also have a pleasant peach scent. If they are brittle and don't smell like peach, then the dessert can be on the sour side. In a pinch, you may use peaches that have been frozen. To include them in the batter, you need to let them thaw at room temperature, after which you should pat them dry.
FOR MAKING THIS PEACH COBBLER POUND CAKE I USED THE FOLLOWING INGREDIENTS:
Fresh peaches; I used 4 large-sized.
110 grams.Of brown sugar.
½ Tsp.Of cinnamon powder.
60 grams.Of melted butter.
3 sticks.Of unsalted butter – preferably at room temp.
Full fat cream cheese; I used 220 grams at room temp.
500 grams.Of granulated sugar.
80 grams.Of sour cream – at room temp.
1 Tbsp.Of vanilla extract.
6 large eggs – at room temp.
350 grams.Of cake flour.
1 Tsp.Of baking powder.
½ Tsp.Of salt.
PREPARATION:
1st Step – Set the oven to a temperature of 325 degrees Fahrenheit (163 degrees Celsius). Spray some nonstick spray into a Bundt pan that holds 12 cups of batter.
2nd Step – To begin, peel the peaches. Put the peach wedges in the bottom of the Bundt pan after you have sliced one peach into wedges. Make sure the remaining three peaches are chopped into bite-sized pieces.
3rd Step – Combine the brown sugar, cinnamon, and melted butter in a small basin and mix well. Sprinkle on top of the peach mixture that is already in the Bundt pan.
4th Step – For 2 minutes, whip the butter in a big bowl at high speed. After adding the cream cheese, continue beating for an additional minute at high speed.
5th Step – Then add sugar and continue beating at high speed for an additional minute. In the end, stir in the vanilla extract and sour cream, then whip the mixture on high speed until it is silky smooth and creamy.
6th Step – Add the eggs one at a time, beating well after each addition, and continue doing so until each egg has been completely integrated into the batter. Before adding the next egg, make sure you scrape the edges of the bowl.
7th Step – Mix in the peaches that have been cut. After that, add the cake flour, baking powder, and salt, and mix on low until the dry ingredients are almost completely incorporated.
8th Step – After the Bundt pan has been prepped, pour the batter into it. Tap the pan down firmly against the counter a few times to get rid of any air bubbles that may have formed. After that, put it in the oven for about 80 to 90 minutes, or until a toothpick inserted into the center comes out clean.
9th Step – Take the pan out of the oven and let it cool down in there for an hour. Flip the cake over onto a platter, and allow it to cool fully. If you like, you may serve it with whipped cream and caramel sauce on the side.
RECIPE NOTES:
If desired, the mixture may be split between two loaf pans and cooked for 60-70 minutes.
If you are going to use frozen peaches, make sure that they are thoroughly defrosted and patted dry before adding them to the batter.