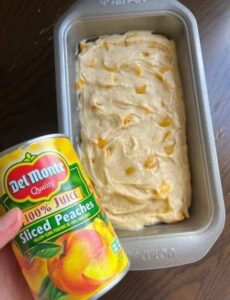 THE INGREDIENTS LIST:
2 Cups.Of all-purpose flour.
1 Tsp.Of baking powder
1/2 Tsp.Of baking soda
1/2 Tsp.Of salt
1/2 Cup.Of unsalted butter, softened
1 Cup.Of granulated sugar
2 large eggs
1 Tsp.Of vanilla extract.
1/2 Cup.Of sour cream.
1 and 1/2 Cups.Of fresh peaches, peeled and chopped.
4 oz cream cheese, softened.
1/4 Cup.Of powdered sugar.
1 Tbsp.Of milk.
PREPARATION:
1st Step
Turn the oven temperature up to 350 degrees Fahrenheit (175 degrees Celsius). Prep a 9-by-5-inch loaf pan with butter and flour.
2nd Step
To make the batter, combine the flour, baking powder, baking soda, and salt in a medium basin and whisk to combine. Don't use this blend just yet.
3rd Step
In a large bowl, beat the softened butter and granulated sugar until frothy and pale in color. Three to four minutes ought to be enough here. Then, one at a time, beat in the eggs while continuing to beat. Add the vanilla essence and mix well.
4th Step
In three separate additions, alternating with the sour cream, add the dry ingredients to the butter mixture. Dry ingredients should be used first and last. Combine to avoid any lumps. Mix the diced peaches in gently. It's important not to over-stir.
5th Step
In a separate bowl, blend the cream cheese, powdered sugar, and milk until smooth. This makes a luscious twirl throughout the loaf.
6th Step
Then, in the prepared loaf pan, add half of the peach batter. Do not leave any gaps. Spread the cream cheese mixture carefully over the peach layer with a spoon.
7th Step
Spread the remaining peach batter over the top. Then, using a knife or skewer, carefully marbleize the top layer of batter with the cream cheese mixture. Then bake in the preheated oven for approximately 50-60 minutes, or until a toothpick inserted into the center of the loaf comes out clean.
8th Step
After ten minutes, remove the loaf from the pan and place it on a wire rack to cool entirely. Slice the Peaches & Cream Cheese Loaf and offer it to your guests for a delicious taste of summer.