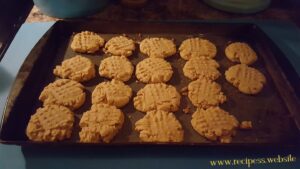 Peanut butter cookies
1 Cp of creamy peanut butter
1/2 Cp of butter
1/2 Cp of brown sugar
1/2 Cp of white sugar
1 Egg
1 TBSP Vanilla extract
1 1/2 Cp of flour
1 tsp of baking soda
1/4 tsp of salt
Preheat oven to 350°
Mix Peanut butter
butter both sugars
With mixer until mixed well. Then add egg and vanilla and mix well. Then mix flour and baking soda in separate bowl the mix flour and baking soda into butter and sugar mixture until well blended.
Use cookie scoop to put on cookie sheet. Roll in sugar ( I didn't )
Press with fork. Bake 8 to 9 minutes. I baked mine for 7 min as I don't like crunchy cookies. I doubled the recipe.
Happy Baking ??
Enjoy.