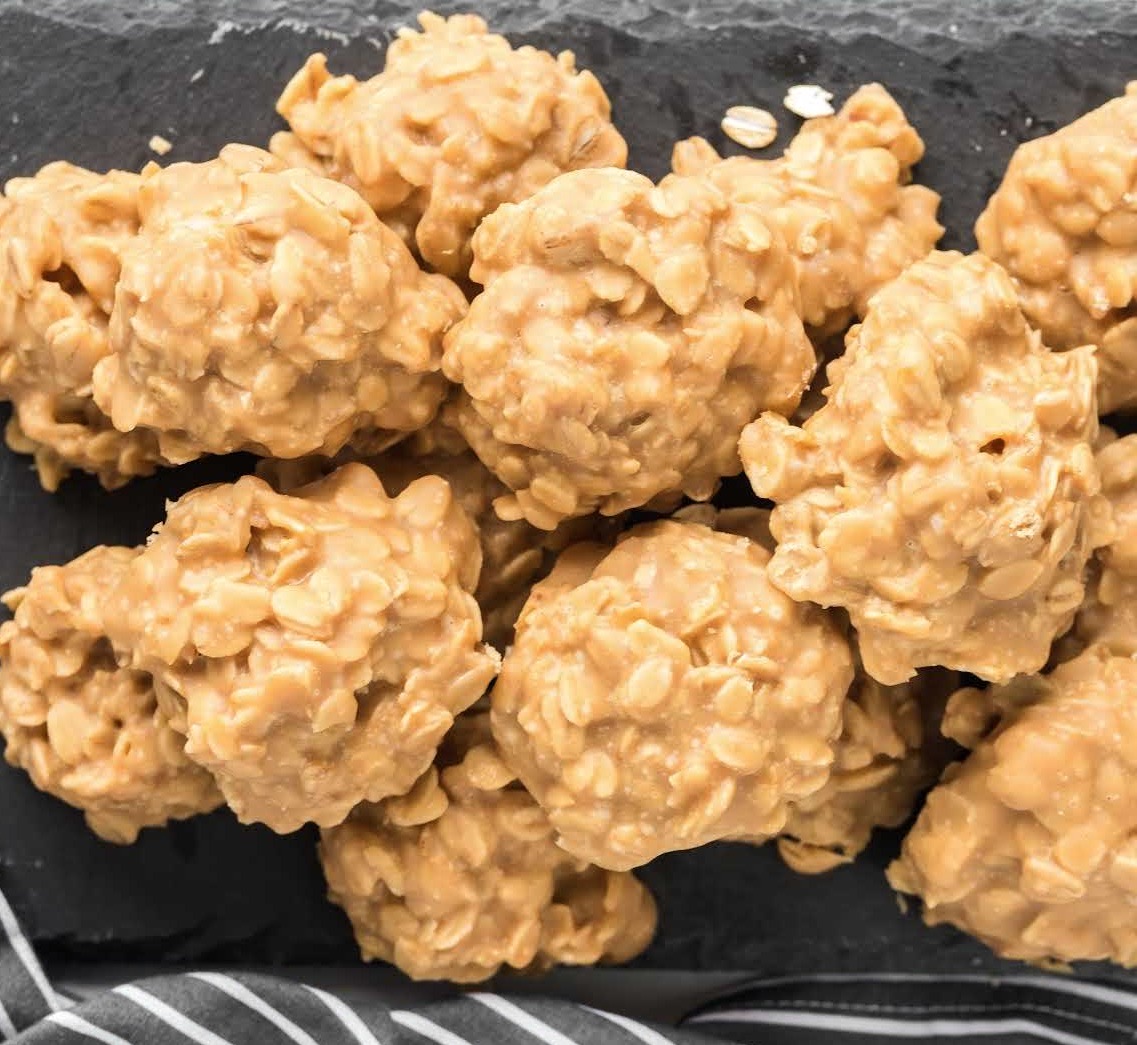 PEANUT BUTTER NO-BAKE COOKIES
These Peanut Butter No-Bake Cookies are loaded with the taste of peanut butter, need just a few basic ingredients, and are really straightforward to put together.
These Traditional No-Bake Cookies are without a doubt my all-time favorite cookie recipe, and if I had to choose just one, it would have to come from my childhood. The previous year, I decided to post the recipe for those cookies, and ever since then, they have been my go-to when it comes to cookie recipes. It fills me with joy to know that a significant number of you like cooking the same dishes that I do.
In addition to being ridiculously easy to put together, these cookies are also perfect for those occasions when you need a fast and straightforward treat. To make this dish, you only need six ingredients and around twenty minutes of your time. To begin preparing these peanut butter cookies that do not need baking, you will first need some butter, granulated sugar, and milk. The mixture will be reduced by melting it, after which it will be brought to a rolling boil and let to boil for one minute. Let's have a look at the complete list and method right down below:
THE INGREDIENTS LIST: 
120 grams.Of unsalted butter – cut into pieces.
350 grams.Of granulated sugar.
120 ml.Of whole milk.
190 grams.Of creamy peanut butter.
1 Tsp.Of pure vanilla extract.
325 grams.Of quick-cooking oats.
PREPARATION:  
Step 1: Before you begin, you should ensure that all of your components are gathered together and that you have accurately measured each one. Prepare two or more big baking sheets by lining them with parchment paper, then setting them aside.
Step 2: In a saucepan, add the butter, sugar, and milk. Heat the mixture over medium heat, being careful to whisk the mixture often, until the butter has melted and the ingredients are well incorporated.
Step 3: Bring the mixture to a full boil (it should be totally coated in bubbles and boiling furiously), and then leave it to boil without stirring for one minute (be sure to set a timer!).
Step 4: Take the pan off the heat and add the peanut butter and vanilla extract, stirring constantly until everything is incorporated. Add the oats and stir until they are evenly covered with the batter and the ingredients are completely blended.
Step 5: Put spoonfuls of the mixture on the baking sheets that have been prepared. When making cookies, one of my favorite techniques is to use a cookie scoop that holds 1.5 tbsp of dough and then slightly presses the dough down to flatten the cookies.
Step 6: After allowing the cookies to cool for around 45 minutes to 1 hour, or until they have become firm, serve and enjoy! The longer the cookies are allowed to cool, the more they will harden as they do so.