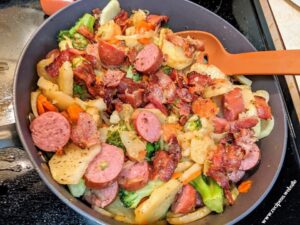 Peasant Skillet
Note: I omitted the celery and used beef smoked sausage. This dish works with any veggies that are in season or what you have on hand (zucchini, squash, ect). I added basil.
6 bacon strips
4 md potatoes, thinly sliced
3 c broccoli florets
3 md carrots, thinly sliced
1 md onion, chopped
1/2 c thinly sliced celery
1/4 tsp salt
1/8 tsp pepper
1 lb fully cooked sausage
In a large skillet over medium-high heat, cook bacon until crisp. Drain on paper towels, reserving 2 tablespoons drippings in skillet. Add next five ingredients to drippings. Reduce heat to medium; cook, covered, stirring frequently, until vegetables are crisp-tender, 10-15 minutes. Sprinkle with salt and pepper. Cut sausage diagonally into 1/2-in. slices; place on top of vegetables. Reduce heat; simmer, covered, stirring frequently, about 10 minutes. Crumble bacon, sprinkle on top.
Enjoy.