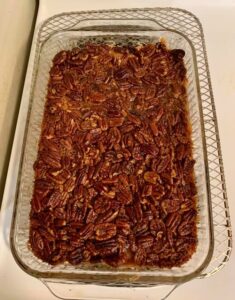 HOW TO MAKE PECAN DREAM CARAMEL BARS
The texture of gooey pecan dream bars strikes the ideal balance between soft and gooey, with just a hint of pecan crunchiness. They construct a dessert that is simple to prepare but stands out because of the use of cake mix from a box, toffee pieces, and sweetened condensed milk.
These delicious gooey pecan dream bars are going to be right up your alley if you're a fan of gooey butter cakes and pecan pies. They have a texture and taste that will remind you a little bit of both, and the recipe for them is really simple and quick to follow. It is impossible not to fall in love with a dessert bar that is sticky, sweet, and full of the taste of toffee!!!
THE INGREDIENTS LIST:
A yellow cake mix box.
1/3 Cup.Of soft butter.
A large beaten egg.
Sweetened condensed milk; I used a 14-ounces box.
1 Cup.Of chopped pecans.
1/2 Cup.Of toffee bits.
PREPARATION:
1st Step
Prepare a 9-by-13-inch pan with butter and preheat the oven to 350 degrees Fahrenheit.
2nd Step
Combine the cake mix, the butter that has been softened, and the egg in a mixing bowl. The mixture may have a bit of a crumbly texture.
3rd Step
Prepare the crust by pressing it into the bottom of the pan that has been oiled.
4th Step
Mix the condensed milk, pecans, and toffee chunks together in a mixing bowl. Spread on top of the crust.
5th Step
Bake for 25 to 30 minutes, or until the filling has reached the desired color and consistency (golden brown and bubbling).
6th Step
Let it cool all the way down before cutting and serving.