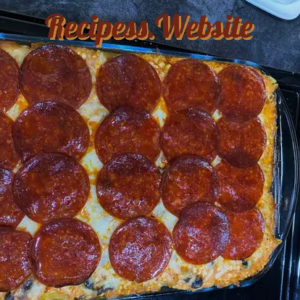 PEPPERONI PIZZA CASSEROLE
This Pepperoni Pizza Casserole only requires 5 ingredients and less than 30 minutes of your time to cook. It is a meal that the adults will like just as much as the children do. It's not complicated at all, and yet it manages to impress a large number of people.
No matter how hard you try, feeding a child can never be a simple task. Although I consider both of my sons to be healthy eaters, they do have their preferences when it comes to certain foods. When it comes to producing a pizza-inspired meal that the kids would eat, this casserole was my best effort.
In preparation for this dish, I chopped some of my pepperonis into smaller pieces and left others whole. Because we find it better to consume when the pepperoni that is combined into the casserole dish is bite-size, we chop the pepperoni into smaller pieces before adding it.
THE INGREDIENTS LIST:
12-ounces Pkg.Of Rotini.
24-ounces can.Of Pizza sauce.
1 Cup.Of Diced pepperoni.
½ Cup.Of Whole pepperoni.
2½ Cups.Of Mozzarella cheese – shredded.
1 teaspoon Oregano – dried.
FOLLOW THE DIRECTIONS BELOW TO MAKE YOUR PEPPERONI PIZZA CASSEROLE:
First Step – Turn the temperature in the oven up to 350 degrees F. Spray a casserole dish with non-stick cooking spray, then put it aside while you prepare the rest of the ingredients.
Second Step – The next step is to prepare the pasta by cooking it in accordance with the recommendations on the box.
Third Step – Drain, then put the liquid back in the saucepan. Add in pizza sauce, chopped pepperoni, and 1½ cup mozzarella cheese. After mixing, place the contents into a casserole dish.
Fourth Step – To finish off your dish, sprinkle the last cup of cheese over the top. After that, top the pizza with entire pepperoni slices and oregano.
Fifth Step – Bake for seven to ten minutes, or until the cheese has melted, whichever comes first. Remove from the oven and serve to enjoy.