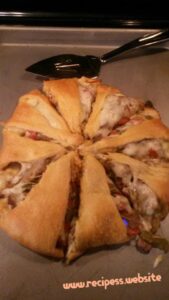 How To Make Philly Cheese Steak Crescent Ring?
Recipe:
Preheat oven to 375 degrees F.
Note:
I used a Ribeye steak but leftover roast can also be used.
I melted some butter in a large iron skillet over medium-high heat and added the onion and bell pepper (that has been cut into strips).
Stir in the thinly sliced steak and cook it with the onions & pepper on med-high heat for about about 5 minutes or until the steak is done, Salt & pepper to taste., remove from heat, drain on a paper towel.
Unwrap the crescent rolls and separate into 8 small rectangles.
Arrange on a non-greased 12-inch pizza pan or a baking sheet in the shape of a sun, try to leave some room in the center.
NOTE:
The pointed end of each crescent roll section should be pointing towards the outside edge of the pizza pan.
After placing all 8 crescent roll sections on the pan in a circle as close together, and overlapping a little, you will then place 6 slices of provolone cheese on the crescent dough towards the enter center, which is the wide end of the crescent laying in a circle on the pizza pan.
Top with the well-drained steak strips, onions, and peppers, making sure to keep the filling in a circular tube around the crescent dough. Top with another layer of cheese.
Carefully pick up the overhanging pointed crescent dough and enclose the filling, tucking the dough underneath into the center of the ring, so all the filling is enclosed as much as possible. If you have too much filling it will hang out like mine did but that's OK.
Bake for 20 to 23 minutes until the dough is cooked through and is a deep golden brown. Let cool slightly before slicing.
This is so good! Enjoy.