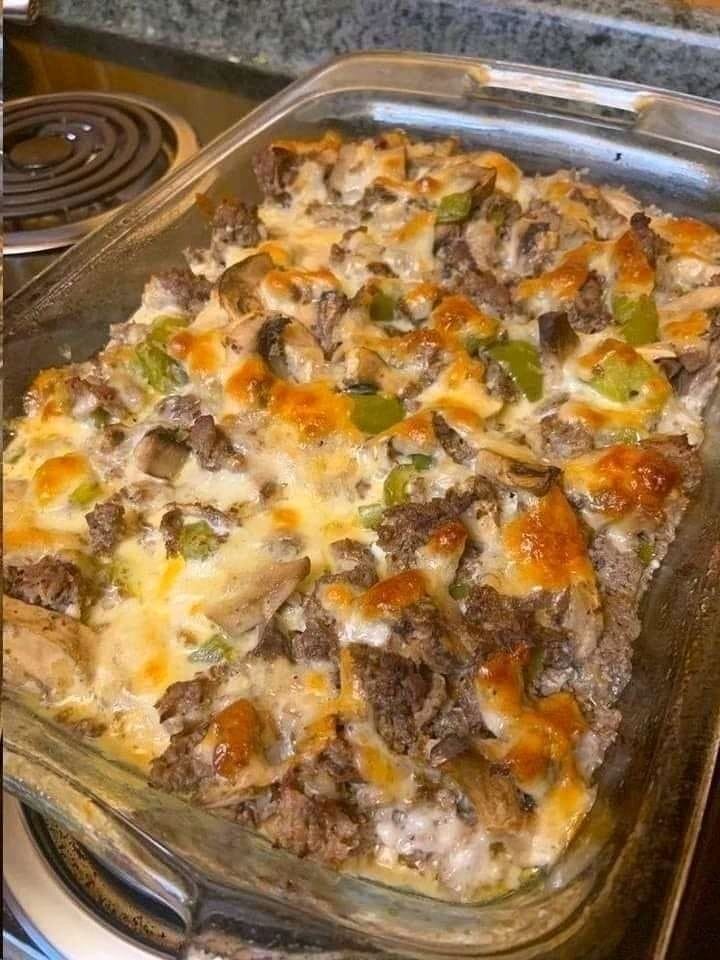 THE INGREDIENTS LIST:
800 grams.Of beef sirloin, thinly sliced.
2 Tbsp.Of olive oil, divided
2 large onions, thinly sliced.
2 bell peppers, thinly sliced.
3 cloves of garlic, minced.
300 grams.Of mushrooms, sliced.
1 Tsp.Of dried oregano.
1 Tsp.Of dried basil.
Salt and pepper to taste
250 grams.Of provolone cheese, shredded.
1 Cup.Of mozzarella cheese, shredded
1 Cup.Of beef broth.
2 Tbsp.Of Worcestershire sauce.
2 Tbsp.Of soy sauce.
Fresh parsley, chopped (for garnish).
PREPARATION:
1st Step
Have a 375F (190C) oven ready. Get out a 9 by 13-inch baking dish and grease it well.
2nd Step
In a large skillet, warm 1 tablespoon of olive oil over medium heat. Brown the meat that has been finely cut and added to the pan. The steak should be taken out of the pan and placed aside.
3rd Step
Turn on the heat under the second tablespoon of olive oil you have in the pan. Put in the garlic, onions, and peppers. The veggies need around 5 minutes in the pan to soften throughout the sautéing process.
4th Step
After around 3-4 minutes, add the sliced mushrooms to the pan and continue cooking until they have shed their moisture and begun to brown. Add salt, pepper, dried oregano, and basil to the vegetable combination. Combining tastes requires a good stir.
5th Step
Put the steak back in the pan with the veggies once they've cooked. Blend the soy sauce, Worcestershire sauce, and beef broth together. Allow the flavors to combine by simmering for a few minutes. If more or less salt is desired, add it.
6th Step
Fill the prepared baking dish with the meat and vegetable mixture. Distribute it uniformly around the plate. Toss the steak and veggies with the shredded provolone and mozzarella cheese, coating them well.
7th Step
Heat the dish in a preheated oven for 15 to 20 minutes, or until the cheese is melted and bubbling.
8th Step
When the casserole is done baking, take it out of the oven and set it on a cooling rack. Use freshly chopped parsley as a garnish for an extra burst of flavor and brightness.
9th Step
The Philly Cheese Steak Casserole should be served hot as the main course. You may serve it with some steamed veggies, a salad, or some crusty bread.