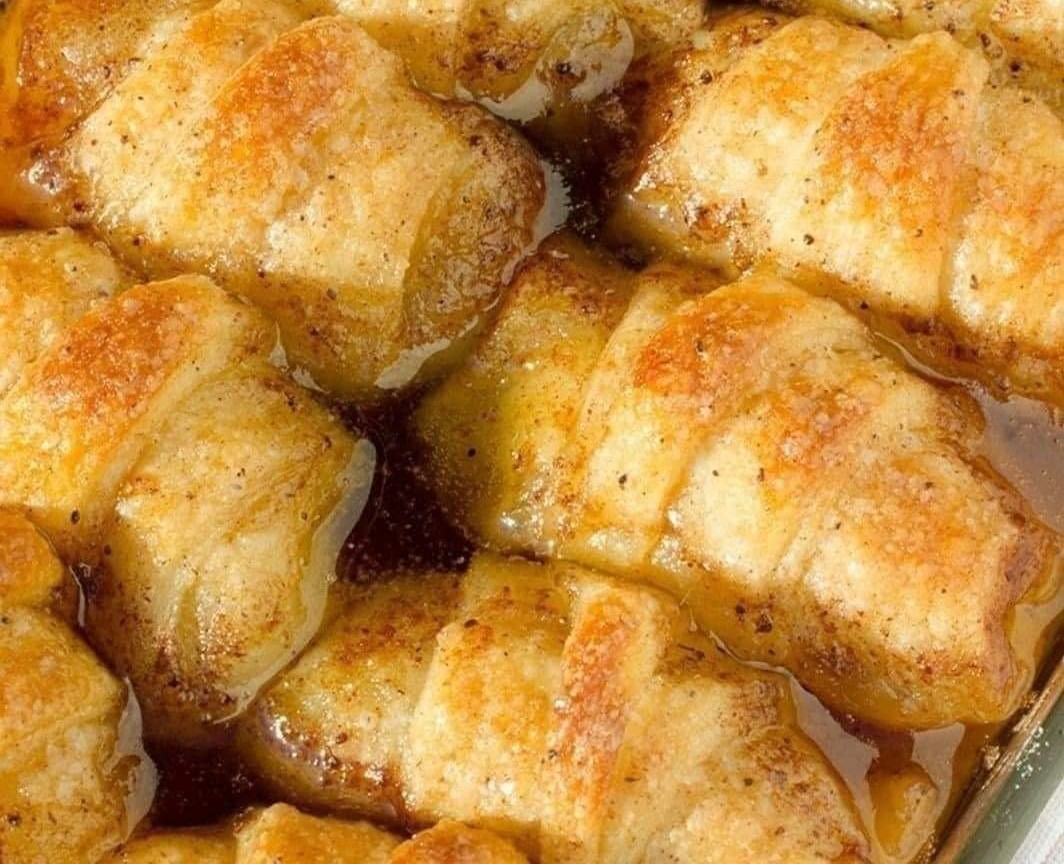 THE INGREDIENTS LIST:
FOR THE DUMPLINGS:
2 Cups.Of all-purpose flour.
1/2 Tsp.Of salt.
2/3 Cup.Of shortening or lard.
4-6 Tbsp.Of cold water.
6 medium-sized tart apples (such as Granny Smith).
6 Tsp.Of butter.
1 Tsp.Of ground cinnamon.
1/4 Tsp.Of ground nutmeg.
FOR THE SAUCE:
1 1/2 Cups.Of water.
1 1/2 Cups.Of granulated sugar.
1/4 Cup.Of butter.
1/4 Tsp.Of ground cinnamon.
1/4 Tsp.Of ground nutmeg.
METHOD:
1st Step
Combine the flour and salt in a wide mixing basin. Add the shortening to the flour until the mixture resembles coarse crumbs.
2nd Step
Add the cold water gradually, one tablespoon at a time, stirring with a fork until the dough binds. The dough is then shaped into a disk, wrapped in plastic, and refrigerated for at least 30 minutes.
3rd Step
Peel and core the apples, but do not remove the bases. This creates a "cup" for the butter and seasonings. Place a teaspoon of butter in the center of each apple that has been cored, then sprinkle with cinnamon and nutmeg.
4th Step
Set the oven to 375 degrees Fahrenheit (190 degrees Celsius). Meanwhile, divide the dough into six portions of equal size. Each portion is rolled into a 7-inch square.
5th Step
Place an apple in the center of each square, and then bring the dough corners up to cover the apple. To secure the edges, pinch them. Place the wrapped apples in a 13 x 9-inch baking dish that has been greased.
6th Step
And now, combine the water, sugar, butter, cinnamon, and nutmeg in a saucepan. Bring to a simmer while occasionally agitating. And drizzle the spicy sauce over the dumplings in the roasting dish.
7th Step
Bake in the heated oven for 45-50 minutes, or until the dumplings are golden brown and the fruits are tender.
8th Step
When serving, spoon the heated sauce over the morsels. Add a dollop of vanilla ice cream as an optional indulgence.