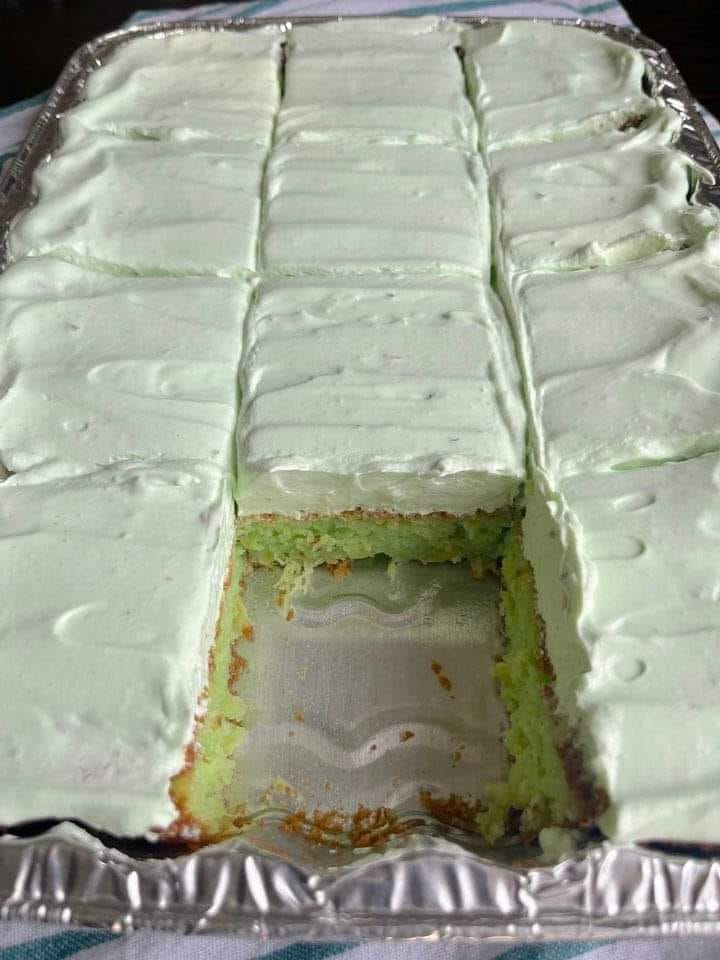 THE INGREDIENTS LIST:
1 and 1/2 Cups.Of all-purpose flour.
1 and 1/2 Tsp.Of baking powder.
1/2 Tsp.Of baking soda.
1/2 Tsp.Of salt.
1 Cup.Of unsalted butter, softened.
1 Cup.Of granulated sugar.
3 large eggs.
1 Tsp.Of vanilla extract.
1/2 Cup.Of shelled pistachios, finely ground.
1/2 Cup.Of crushed pineapple, drained.
1/4 Cup.Of milk.
Green food coloring (optional, for a vibrant green hue).
FOR THE FROSTING:
1 Cup.Of heavy cream.
1/2 Cup.Of powdered sugar.
1 Tsp.Of vanilla extract.
FOR DECORATION (OPTIONAL):
Additional crushed pistachios and pineapple chunks
PREPARATION:
1st Step
Turn the oven temperature up to 350 degrees Fahrenheit (175 degrees Celsius). Prepare two 8-inch cake pans by greasing and flouring them.
2nd Step
To make the batter, combine the flour, baking powder, baking soda, and salt in a medium basin and whisk to combine. Don't use this blend just yet.
3rd Step
In a large mixing bowl, cream together the softened butter and granulated sugar until light and fluffy. Three to four minutes ought to be enough here.
4th Step
Be sure to thoroughly mix the mixture after adding each egg. Add the vanilla essence and mix well. Slowly mix in the smashed pineapple and ground pistachios. Combine all of the ingredients well.
5th Step
Add the dry ingredients and the milk to the batter in three separate additions, starting and finishing with the dry ingredients. Combine to avoid any lumps. It would be a mistake to over-stir. Add a few drops of green food coloring and stir to spread evenly if you want a more intense green hue.
6th Step
Distribute the batter evenly among the cake pans. Make the tops even using a spatula. The cakes should be baked for 25 to 30 minutes in a preheated oven, or until a toothpick inserted in the middle comes out clean.
7th Step
After 10 minutes, remove the cakes from the pans to cool fully on wire racks. Whip the heavy cream, confectioners' sugar, and vanilla extract in a separate bowl until firm peaks form. You'll use this as a delicious topping.
8th Step
Spread some frosting on top of one cake layer after it has cooled fully. Frost the whole cake, then place the second cake layer on top. Cut the cake into slices and enjoy the nutty, tropical symphony.