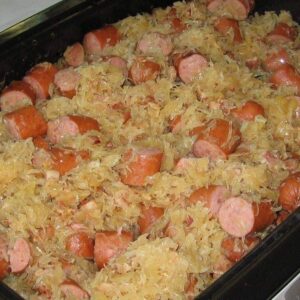 THE INGREDIENTS LIST:
1.5 lbs.Of Polish sausage, sliced into bite-sized pieces (680g).
1 lb.Of sauerkraut, drained and rinsed (450g).
4 large potatoes, peeled and diced.
1 large chopped onion.
2 minced cloves of garlic.
2 Tbsp.Of butter.
1 Tbsp.Of olive oil.
1 Tsp.Of caraway seeds (optional).
Salt and pepper to taste.
Chopped fresh parsley for garnish (optional).
INSTRUCTIONS:
1st Step
Be sure that the sauerkraut has been well washed and drained to get rid of any extra brine. This will help bring the taste back into balance.
2nd Step
Warm the butter and olive oil together in a Dutch oven or a big pot with a heavy bottom and set the heat to medium. Add the garlic that has been minced and the chopped onion. Sauté the vegetables until they release their aroma and become slightly transparent.
3rd Step
After adding the sliced Polish sausage to the saucepan, heat it for a few minutes, or until it has a light brown color. The next step is to add the potato cubes, after which you should keep the heat on for a few more minutes so that the potatoes may develop some color.
4th Step
After it has been drained and washed, add the sauerkraut to the saucepan. Incorporate it with the sausage and potatoes, and give the flavors some time to come together.
5th Step
Add salt and pepper to taste, and then mix everything together. If you want to give it a really Polish taste, you may sprinkle some caraway seeds on top.
6th Step
Turn the heat down to low, cover the saucepan, and let the mixture simmer for around thirty to forty minutes, or until the potatoes are cooked.
7th Step
Try it out, then make any necessary adjustments to the seasoning. If you want to add a splash of color and a hint of brightness to your dish, garnish it with chopped fresh parsley.
8th Step
You can serve this meal hot, and it goes well with a side of crusty bread or a dab of sour cream. It's made with Polish sausage, sauerkraut, and potatoes.