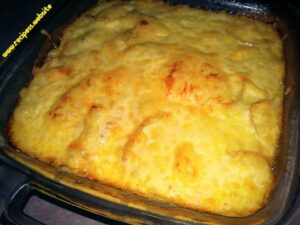 I did 2 layers of thinly sliced potatoes
sliced onions
And a homemade cheese sauce
For the cheese sauce:
I started with a roux using butter, flour, milk, and a little half and half.
Then I added:
Lawrys season salt
Pepper
Paprika
A pinch of cayenne, and shredded pepperjack cheese.
Baked it covered at 375 for about an hour.
Then I sprinkled some cheddar cheese on top and baked uncovered for another 15-20 minutes at 400.
Enjoy.