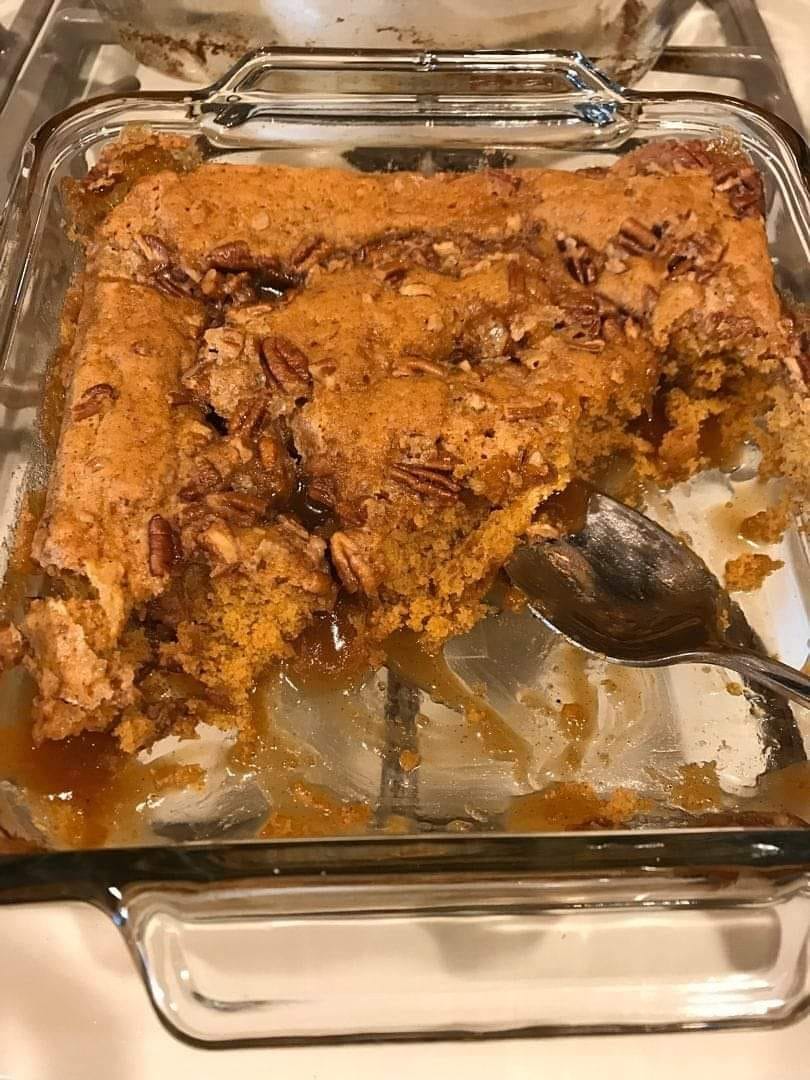 THE INGREDIENTS LIST:
For the pumpkin filling:
• 1 (15-oz) can.Of pumpkin puree.
• 1 Cup.Of granulated sugar.
• 1/4 Cup.Of milk.
• 1 Tsp.Of vanilla extract.
• 1/2 Tsp.Of ground cinnamon.
• 1/4 Tsp.Of ground nutmeg.
• 1/4 Tsp.Of ground ginger.
• Pinch of salt.
For the cobbler topping:
• 1 Cup.Of all-purpose flour.
• 2 Tsp.Of baking powder.
• 1/2 Tsp.Of salt.
• 1/2 Cup.Of unsalted butter, melted.
• 1/4 Cup.Of milk.
• 1 Cup.Of chopped pecans.
• 1 Cup.Of brown sugar, packed.
• 1/2 Cup.Of boiling water.
PREPARATION:
1st Step
Mix the pumpkin puree, granulated sugar, milk, vanilla essence, ground cinnamon, ground nutmeg, ground ginger, and a dash of salt together in a large mixing basin. Combine until there are no lumps and everything is evenly distributed.
2nd Step
Spread the pumpkin mixture out in a uniform layer on the bottom of a baking dish that is 9 inches by 13 inches and has been oiled.
3rd Step
In a second dish, mix together the flour, baking powder, and salt for the cobbler topping. You will need a separate bowl for this step.
4th Step
After that, pour the melted butter and the milk into the bowl containing the dry ingredients and mix well until a thick batter is formed. Then gently incorporate the chopped pecans.
5th Step
Next, spread the batter evenly over the pumpkin mixture in the baking dish, equally sprinkle the brown sugar over the batter, and then slowly pour boiling water over the top of the batter. Do not stir the food.
6th Step
Heat the oven to 350 degrees Fahrenheit (175 degrees Celsius), then place the baking dish in the oven and bake for 40 to 45 minutes, or until the cobbler is set and the top is golden brown.
Pumpkin Pecan Cobbler is a true taste of autumn, offering a harmonious blend of pumpkin and pecan flavors in every spoonful. Whether enjoyed warm with a scoop of vanilla ice cream or served at a festive gathering, this cobbler is sure to evoke the spirit of fall. Embrace the essence of the season with Pumpkin Pecan Cobbler, and savor the taste of this harvest delight.