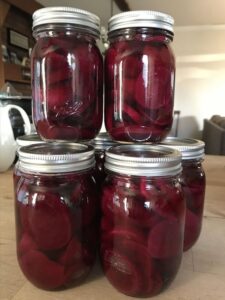 HOW TO MAKE REFRIGERATOR PICKLED BEETS
Craving a zesty and tangy addition to your meals? Look no further than refrigerator pickled beets! These vibrant and flavorful gems offer a perfect balance of sweet and tangy notes, making them a versatile condiment that complements a variety of dishes. The best part? You can easily make them at home without the need for any canning equipment. Let's dive into the delightful world of refrigerator pickled beets and learn how to create this scrumptious treat.
With their vibrant hue and irresistible tang, refrigerator pickled beets are an excellent way to elevate your meals. The simple process of pickling preserves their freshness while enhancing their natural sweetness. Experiment with different herbs and spices to create your unique flavor profiles. So, roll up your sleeves, grab some beets, and embark on a journey of culinary delight with homemade refrigerator pickled beets.
TO MAKE REFRIGERATOR PICKLED BEETS, GATHER THE FOLLOWING INGREDIENTS:
– 4 to 5 medium-sized beets, washed and trimmed.
– 1 Cup.Of white vinegar.
– 1 Cup.Of water.
– 1/2 Cup.Of granulated sugar.
– 1 Tbsp.Of salt.
– 1 Tsp.Of whole black peppercorns.
– 2 to 3 cloves garlic, peeled and crushed (optional).
– Fresh herbs (such as dill, thyme, or rosemary).
For Ingredients And Complete Cooking Instructions Please Head On keep on Reading (>)