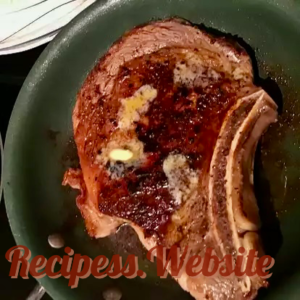 RIBEYE STEAK
Cooking the steak in this way will allow the fat to brown well and form a wonderful crust on its surface while keeping the center of the steak soft and moist. Ribeye steak should be seared in a hot cast iron pan on all sides, then finished in an oven at a high temperature.
By far, my favorite cut of steak is the ribeye, with the New York strip coming in a very close second place. Tender, delicious, and well-marbled, ribeyes have these amazing fatty borders that, when well-browned, taste like candy to me.
You can cook ribeyes at home, but only with a well-seasoned cast-iron pan, which is the only way to get a decent sear on your steaks.
HERE IS THE LIST OF THE INGREDIENTS NEEDED TO MAKE MY « RIBEYE STEAK »:
Good-quality Ribeye steaks, I used 2 1 lb. each.
2 small spoons.Of kosher salt.
½ small spoons.Of freshly ground black pepper.
2 large spoons.Of softened butter.
TO ADD FLAVOR, YOU CAN USE: 
 Dried thyme.
 Minced garlic.
 Dried rosemary.…etc.
INSTRUCTIONS: 
1st Step – To start the preparation of this recipe your oven should be preheated to 500°F to begin.
2nd Step – Then, use paper towels to thoroughly dry the steaks. Keeping the surface dry will aid in the formation of a healthy crust.
3rd Step – After that, you need to season both sides of the steaks as well as the fatty portion using kosher salt and black pepper to season.
Note: A well-seasoned cast-iron pan should be heated to a smoking temperature before use. No oil is required if the skillet is well-seasoned.
4th Step – At this point, you need to add the steaks to the pan and cook for a few minutes on each side. Cook them for 2 minutes on each side + 30 seconds on the edges. If the pan becomes too hot, you can decrease the heat to medium-high, but generally speaking, you want it to be super-hot.
5th Step – Then, use the oven gloves to gently move the hot skillet to the oven that has been preheated.
6th Step – For medium-rare steaks, cook for three minutes; for medium-done, cook for five minutes.
7th Step – To keep the steaks warm, place them on a heated dish and cover them loosely with aluminum foil. Serve them with butter once they've rested for five minutes.