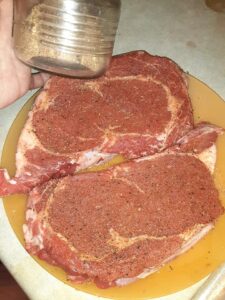 HOW TO MAKE ROADHOUSE STEAK
The Roadhouse copycat steak is an excellent meal that can be prepared with little effort at home. This dish is a must-try for all of you if you are a fan of Texas Roadhouse as much as we are.
The seasoning for the steak and mastering the art of grilling the meat to perfection are the keys to success. In this post, we are going to teach you the greatest techniques for preparing a delicious steak at home. This recipe for a fantastic steak meal at home is one that we have perfected.
THE INGREDIENTS NEEDED:
2 Pounds.Of Sirloin Steak.
1 Tablespoon.Of Brown Sugar.
1 Tablespoon.Of Sea salt.
2 Teaspoons.Of Black Pepper.
1 Teaspoon.Of smoked Paprika.
1 Teaspoon.Of Chili Powder.
1/2 Teaspoon.Of Garlic Powder.
1/2 Teaspoon.Of Onion Powder.
1/2 Teaspoon.Of Garlic Salt.
1/2 Teaspoon.Of Tumeric.
1/2 Teaspoon.Of Cornstarch.
PREPARATION:
1st Step:
In a large mixing basin, fully incorporate all of the ingredients by stirring them together.
2nd Step:
On each steak, rub approx. 1 tablespoon of the spice mixture in order to get the desired flavor. Be generous in your application of the seasoning. Depending on the size of your steak, it might be slightly more or slightly less than one tablespoon.
3rd Step:
At room temperature, let the steak at least half an hour to marinate with the seasoning once it has been prepared.
4th Step:
Set the temperature on a grill to 400 degrees Fahrenheit. And then grease the grill gates either by spraying them with oil or wiping it on them.
5th Step:
Depending on how you prefer your steak cooked, place the steaks on a hot grill and cook them for three to five minutes on each side.
6th Step:
Grill the steak for a further three to five minutes, turning it over after two to three minutes, depending on how well done you prefer your steak.
7th Step:
After removing from the grill, wait at least five minutes before cutting or serving the meat. ENJOY IT!!