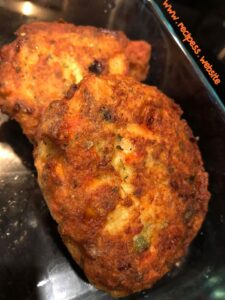 First time making salmon croquettes! They came out delicious.
How To Make Salmon Croquettes:
I cooked salmon in the oven , put some olive oil and season all on it.
Let cool and took the skin off..while it's cooling I sautéed:
Jalapeño
Green bell pepper
Red pepper and onion
Then once it's done I put it in a bowl, along with one egg, some bread crumbs, flour, lemon pepper seasoning, garlic and onion powder and season all.
Combined into mini patties and fried in peanut oil until golden.
Enjoy.