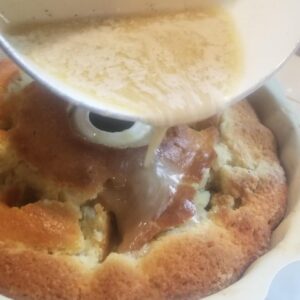 HOW TO MAKE SALTED CARAMEL KENTUCKY BUTTER CAKE
This traditional and time-honored cake recipe is almost identical to the one that Grandma used to prepare. This Kentucky Butter Cake Recipe is going to be just up your alley if you're in the mood for a cake that's not only buttery but also sweet and moist all at the same time. This well-known dish may be prepared in a multitude of different ways. The preparation time for ours, which is just fifteen minutes, makes it very sugary, and it is finished off with a drizzle of caramel. This delectable treat would go well with coffee, and it would be extra delicious if a dash of Kentucky bourbon was added to it.
Because this recipe calls for butter, the cake has a higher moisture content than usual, making it very tender and lovely. Consuming this cake is quite similar to consuming a pound cake or a doughnut that has been enlarged.
This cake is perfect for the cooler months! It reminds me of a pound cake that's been piled high with toppings. The reason why it has such a big name is that it is packed to the brim with magnificence; a shorter name wouldn't do it fairly. I apologize, but the only picture I have is this one. I do not have anymore. Both times I've cooked it, everyone ate it before I had a chance to take pictures of it!
THE INGREDIENTS NEEDED:
3 Cups.Of all-purpose flour.
2 Cups.Of granulated sugar.
2 sticks.Of unsalted butter – softened to room temp.
1 Cup.Of buttermilk.
4 large eggs.
1 Tbsp.Of vanilla bean paste or vanilla extract
1 Tsp.Of kosher salt.
1 Tsp.Of baking powder.
1/2 Tsp.Of baking soda.
3/4 cup.Of granulated sugar.
5 Tbsp plus 1 Tsp.Of unsalted butter.
2 Tsp.Of vanilla extract.
Confectioners' sugar for dusting.
Caramel sauce for drizzling.
DIRECTIONS:
1st Step
Prepare the oven to 325 degrees Fahrenheit. Prepare a 12-cup Bundt pan by greasing and flouring it.
2nd Step
Mix the flour, sugar, butter, buttermilk, eggs, vanilla, salt, baking powder, and baking soda together for one minute on low speed using a hand mixer or a stand mixer equipped with the paddle attachment. Raise the rotational speed to medium and continue to blend until smooth.
3rd Step
After pouring the mixture into the Bundt pan, place it in the oven and bake it for one hour and five minutes to one and a quarter hours, or until the cake is brown and a toothpick inserted in the middle comes out clean.
4th Step
After the cake has finished baking, prepare the glaze by combining the granulated sugar, butter, and vanilla extract in a small saucepan along with two tablespoons of water.
6th Step
Stir constantly over low to medium heat until the sugar has completely dissolved and the butter has melted. Next, using a wooden stick, make numerous holes in the cake, and then pour the butter glaze over the cake while it is still warm.
7th Step
Allow the cake to cool fully in the pan before removing it. Turn the cake out onto a serving platter after it has cooled completely.
8th Step
Sprinkle with confectioner's sugar and drizzle with caramel sauce before serving. Cut into pieces, and serve.