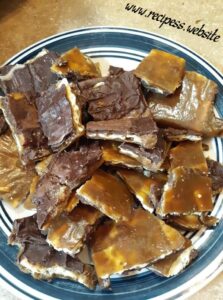 HOW TO MAKE SALTINE TOFFEE RECIPE
During the holiday season, you should try your hand at making some homemade Saltine Toffee. This sweet and salty snack is wonderful for giving to others. This toffee recipe is fantastic since it is so straightforward, and it's possible that you may even already have all of the ingredients on hand.
Toffee is one of the sweets that may be made at home with the least amount of difficulty. You just need some butter, brown sugar or molasses, and a keen eye to make these cookies. Butterscotch is produced when brown sugar and butter are heated together in a pan. You will have successfully created toffee if you continue cooking it until it reaches the stage known as "hard crack." This recipe makes use of the oven for a part of the required cooking, which makes the process much simpler. In this instance, a candy thermometer is not necessary; nonetheless, you must remember to set the timer!
THE INGREDIENTS LIST:
Salted saltine crackers; I used 40.
Unsalted butter; you'll need 2 sticks.
¾ Cups.Of packed light brown sugar.
Milk-dark or white chocolate chips; I used 12-ounces.
Chopped nuts; I prefer pecans; so I used half a cup.
DIRECTIONS:
Step 1
Bring the temperature in the oven up to 400 degrees. Prepare a jelly roll pan or a baking sheet with a rim by lining it with foil and spraying it with nonstick spray.
Step 2
Arrange the saltines on the baking sheet that has been prepared so that they are touching one another. Set aside.
Step 3
While constantly swirling the mixture, bring the butter and the brown sugar to a boil in a pot set over medium heat. Put a timer on and continue to boil the mixture for three minutes after it has begun to boil.
Step 4
After immediately removing the pan from the heat, slowly and carefully pour the sauce over the crackers that have been made.
Step 5
Bake for 5 minutes. The sugar mixture will have developed a vigorous bubbling action, and the crackers will have begun to float to the surface.
Step 6
Take the crackers out of the oven and, if necessary, use the point of a knife to arrange them in a straight line.
Step 7
Sprinkle the chocolate chips over the top in a uniform layer, and then put the dish back into the oven for another minute or two, until the chocolate is pliable enough to spread.
Step 8
Make sure to use an offset spatula to ensure that the chocolate is spread out evenly over the crackers. If using, sprinkle the nuts that have been chopped on top.
Step 9
Keep at room temperature until completely cool. And to cool down more quickly, you should put it in the refrigerator.
THE BEST WAY TO ENJOY YOUR SALTINE TOFFE IS WITH A WARM CUP OF COFFEE WATCHING YOUR FAVORITE TV SHOW!!!! Happy weekend!!!