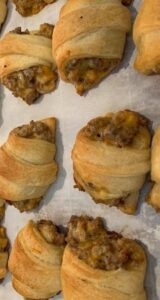 THE INGREDIENTS LIST:
– An (8-oz) can.Of refrigerated crescent dinner rolls.
– 1/2 Lb.Of ground sausage.
– 4-oz.Of softened cream cheese.
– 1/4 Cup.Of shredded cheddar cheese.
– 2 Tbsp.Of finely chopped green onions.
– 1/4 Tsp.Of garlic powder.
– 1/4 Tsp.Of dried oregano.
– 1/4 Tsp.Of dried thyme.
– Salt and pepper to taste.
PREPARATION:
Step 1
Set the oven's temperature to 375°F (190°C). To keep things from sticking, line a baking sheet with parchment paper or gently oil it.
Step 2
Brown and thoroughly fry the ground sausage in a pan over medium heat. As the sausage cooks, crumble it up with a wooden spoon. After cooking, turn off the heat and drain any extra fat.
Step 3
Combine the cooked sausage, melted cream cheese, grated cheddar cheese, finely chopped green onions, dried oregano, dried thyme, salt, and pepper in a medium bowl. All the components should be well combined.
Step 4
Unroll the dough for the crescent rolls and cut it into 8 triangles. Onto the broad end of each triangle, dump a large scoop of the sausage and cream cheese mixture. Beginning at the broad end, roll the dough up, tucking the edges in to seal the contents within. Continue doing this with the remaining triangles.
Step 5
Arrange the filled crescents on the lined baking sheet, leaving some room between them for expansion. Bake the crescents in the preheated oven for 12 to 15 minutes, or until they are well-cooked and golden brown.
Step 6
After baking, take the sausage cream cheese crescents out of the oven and allow them to cool before slicing. Either heated or at room temperature, they are delicious.
Step 7
Offer the sausage cream cheese crescents as a breakfast spread, an appetizer, or a snack. They go nicely with several dips, including ranch dressing, salsa, and marinara sauce. For a quick supper alternative, these crescents may also be served with a crisp salad.
Note:
You can customize this recipe by adding additional ingredients to the filling, such as diced bell peppers, chopped jalapenos, or different types of cheese. Feel free to experiment and adjust the seasonings to suit your taste preferences.
Enjoy these delicious sausage cream cheese crescents with their savory filling and flaky, buttery crust. They are sure to be a hit at any gathering or enjoyed as a tasty treat for yourself!