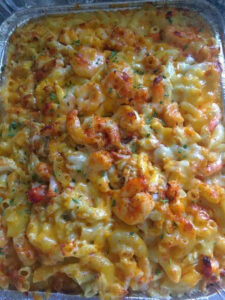 Components:
Two cups of uncooked Macaroni.
6 ounces of Claw Crab Meat.
8 ounces of Shrimp, peeled and deveined.
8 ounces of Sour Cream.
4 tbsp of Butter.
2 tbsp of All-Purpose Flour.
One Spring Onion.
One can of Evaporated Milk.
8 ounces of Sharp White Cheddar Cheese (block).
4 ounces of Mozzarella Cheese (block).
1/4 cup of Panko Bread Crumbs.
Salt and Black Pepper.
Directions:
Step 1
First, cook 2 cups of macaroni and drain.
Step 2
Then, mix macaroni with 8 oz. sour cream and 6 oz. crab meat.
Step 3
After that, sauté and chop 8 oz. shrimp; add to the mixture.
Step 4
In this step, in a pan, sauté spring onions, add 2 tbsp. flour, and stir in 1 can of evaporated milk until thickened.
Step 5
Next, add 8 oz. cheddar cheese, pour over the macaroni mixture, and season.
Step 6
Transfer to a buttered dish, top with 4 oz. mozzarella, breadcrumbs, and paprika.
Step 7
Finally, bake at 350°F for 20 to 25 minutes, serve, and enjoy your Seafood Mac and Cheese!
Tips:
– Use fresh seafood for the best taste.
– Season the sauce to your taste.
– Serve with a side salad.
Variations:
– Lobster instead of crab and shrimp.
– Create a vegetarian version with mushrooms or peppers.
– Bake it in the oven for a different texture.
Have a nice day!!