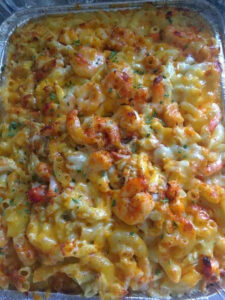 INGREDIENTS YOU'LL NEED:
1 lb.Of macaroni pasta.
1/2 Cup.Of unsalted butter.
1/2 Cup.Of all-purpose flour.
4 Cups.Of whole milk.
2 Cups.Of sharp cheddar cheese, shredded.
1 Cup.Of Gruyère cheese, shredded.
1 Cup.Of Parmesan cheese, grated.
1 Tsp.Of Dijon mustard.
Salt and black pepper to taste.
1/2 Tsp.Of cayenne pepper (optional, for a subtle kick).
1 lb.Of mixed seafood (shrimp, crab meat, and scallops work wonderfully).
1/2 Cup.Of breadcrumbs.
2 Tbsp.Of fresh parsley, chopped.
PREPARATION:
1st Step
Begin by bringing a large pot of salted water to a rolling boil. Add the macaroni and cook until al dente, typically about 8-10 minutes. Drain and set aside.
2nd Step
If using shrimp, peel and devein them. Rinse all seafood thoroughly and pat dry with paper towels. Cut large scallops into bite-sized pieces, ensuring uniformity in cooking.
3rd Step
In a large saucepan, melt the butter over medium heat. Add the flour and whisk constantly to create a roux, ensuring no lumps remain. Cook the roux for 2-3 minutes, or until it takes on a light golden hue.
4th Step
Gradually pour in the milk, whisking continuously to prevent clumps. Allow the mixture to simmer gently, stirring occasionally, until it thickens to a smooth, velvety consistency. This should take about 5-7 minutes.
5th Step
Reduce the heat to low and add the shredded cheddar, Gruyère, and grated Parmesan cheese. Stir until the cheeses are fully melted and the sauce becomes a luscious, homogeneous blend.
6th Step
Stir in the Dijon mustard, cayenne pepper (if using), salt, and freshly ground black pepper. Adjust the seasonings to suit your palate, achieving a harmonious balance of flavors.
7th Step
Gently fold in the prepared seafood, ensuring it's evenly distributed throughout the creamy mixture. Allow it to heat through for 2-3 minutes, but take care not to overcook the delicate seafood.
8th Step
Add the cooked macaroni to the cheese and seafood mixture, using a spatula to gently fold everything together. Ensure that every morsel of pasta is lovingly coated with the delectable sauce.
9th Step
Heat your oven's broiler. Transfer the Seafood Mac and Cheese to a baking dish. Sprinkle breadcrumbs evenly over the top, creating a crispy, golden crust. Place the dish under the broiler for 2-3 minutes, or until the breadcrumbs turn a tantalizing shade of brown.
10th Step
Remove from the oven and garnish with freshly chopped parsley, adding a burst of color and a hint of freshness to this indulgent dish.
11th Step
Scoop generous portions onto plates and watch as your guests are transported to a world of culinary ecstasy. Pair with a crisp white wine or a light salad to complement the richness of the Seafood Mac and Cheese.