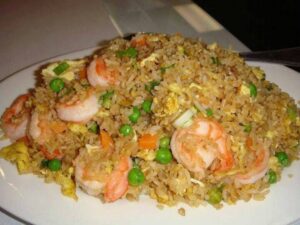 THE INGREDIENTS LIST:
– 2 Cups.Of cooked white rice.
– 1/2 pound shrimp, peeled and deveined.
– 2 Tbsp.Of vegetable oil.
– 2 garlic cloves minced.
– 1 small chopped onion.
– 1/2 Cup.Of frozen peas (thawed).
– 1/2 Cup.Of diced carrots.
– 2 sliced green onions.
– 2 Tbsp.Of soy sauce.
– 1 Tbsp.Of oyster sauce (optional).
– 1/2 Tsp.Of sesame oil.
– Salt and pepper to taste.
PREPARATION:
Step 1
First, prepare the rice. If you don't have any leftover rice, cook 1 cup of uncooked rice according to the instructions on the package and allow it to settle before using. Rice that has been chilled is ideal for fried rice because it prevents it from becoming soggy.
Step 2
Dry the shrimp with a paper towel after rinsing them with cool water. season to flavor with salt and pepper. And in a large skillet, heat 1 tbsp of oil over medium-high heat. Add the shrimp and sauté for 2 to 3 minutes per side, or until opaque and pink. Take the shrimp out of the pan and set aside.
Step 3
Add another tablespoon of vegetable oil to the same skillet and heat it over medium heat. Add the garlic and onion, and sauté for two to three minutes, until the onion is translucent and the garlic is aromatic.
Step 4
Continue cooking for an additional two minutes after adding the carrots. Then, add the thawed peas and continue heating for another minute, stirring frequently to ensure even cooking.
Step 5
Place the refrigerated rice on the opposite side of the skillet from the vegetables. Using a spatula, separate any rice clusters, and stir-fry the rice for a few minutes to cook it through.
Step 6
After warming the rice, combine it with the vegetables in the skillet. Add the cooked seafood and lightly blend the mixture.
Step 7
Whisk together the soy sauce, oyster sauce (if using), and sesame oil in a small basin. Pour the sauce mixture over the rice and shellfish and combine thoroughly to uniformly cover. Cook for an additional two to three minutes to enable the flavors to combine.
Step 8
Taste the fried rice and season as necessary with salt and pepper. Additionally, you may add more soy sauce or other seasonings to taste, if desired. Remove the pan from the heat and top the shrimp fried rice with cut green scallions. Then serve the shrimp fried rice while it is still heated.