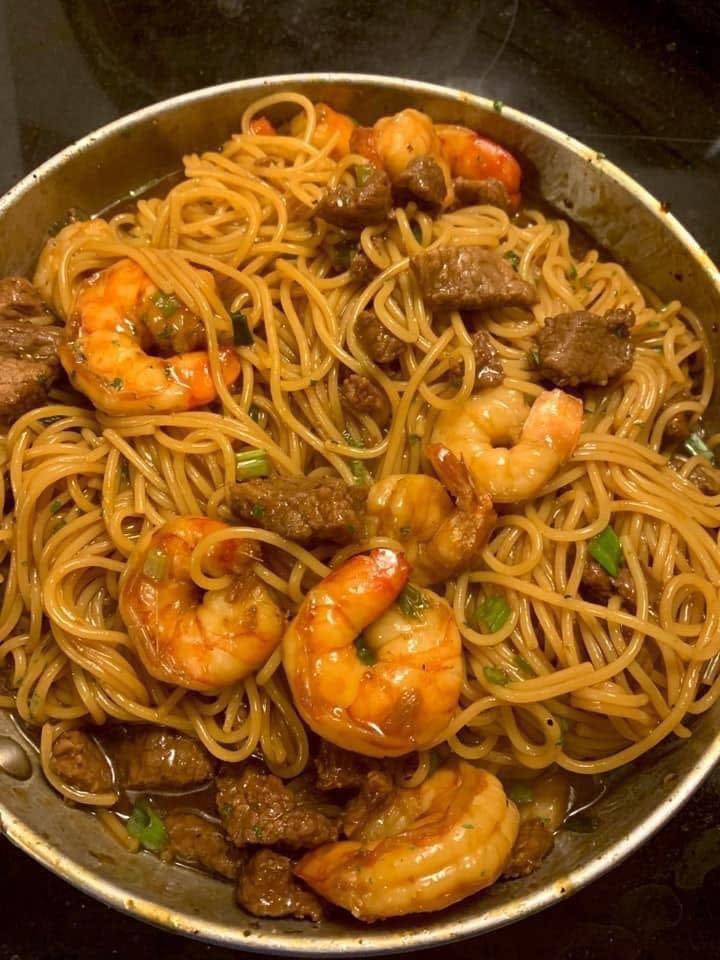 THE INGREDIENTS LIST:
FOR THE TERIYAKI MARINADE:
1/4 Cup.Of soy sauce.
2 Tbsp.Of mirin (sweet rice wine).
2 Tbsp.Of sake ( you can use white wine).
2 Tbsp.Of brown sugar.
2 minced garlic cloves.
Fresh grated ginger.
1 Tbsp.Of cornstarch (optional, for thickening).
FOR THE STEAK AND SHRIMP:
8-oz.Of steak (ribeye, sirloin, or your preferred cut).
8-oz.Of large shrimp, peeled and deveined.
Salt and black pepper to taste.
2 Tbsp.Of vegetable oil.
FOR THE NOODLES AND VEGETABLES:
8-oz.Of egg noodles or udon noodles.
1 sliced red bell pepper.
1 Cup.Of snap peas.
1 Cup.Of broccoli florets.
2 chopped green onions.
PREPARATION:
FOR THE MARINADE FOR THE TERIYAKI:
1st Step
Combine the soy sauce, mirin, sake, brown sugar, chopped ginger, and garlic in a small saucepan. Cornstarch may be combined with a little water to create a slurry, which you can then add to the pot if you like a thicker sauce.
2nd Step
Over low heat, slowly boil the mixture while stirring constantly until it thickens. St aside for later.
FOR THE SHRIMP AND STEAK:
1st Step
Add salt and black pepper to the meat before serving. Apply the prepared teriyaki marinade to the shrimp and steak on both sides.
2nd Step
In a pan, heat the vegetable oil over medium-high heat. When the steak is done to your preference, add it. The steak should be taken out of the griddle and rested.
3rd Step
Add the shrimp to the same skillet and cook them until they are opaque and pink. Heat has been removed; and placed aside.
FOR THE VEGETABLES AND NOODLES:
1st Step
Cook the noodles according to the instructions on the packet. Drain, then set apart.
2nd Step
Over medium heat, heat a dollop of oil in a large pan. Add the broccoli florets, snap peas, and red bell pepper slices. For a few minutes, sauté until they are crisp but still somewhat soft.
3rd Step
Pour the leftover teriyaki marinade over the cooked noodles after adding them to the pan. Combine everything by tossing it together well. Against the grain, finely slice the rested meat.
4th Step
Place the veggies and teriyaki noodles on a serving plate. Add the cooked shrimp and steak slices on top, then add the chopped green onions as a garnish.
Shrimp & Teriyaki Steak Noodles is a culinary journey through the vibrant flavors of Asia, offering a perfect balance of surf, turf, and the sweet umami of teriyaki. Whether enjoyed as a special weeknight dinner or served at a festive gathering, this dish is sure to impress. Embrace the fusion of flavors and textures in Shrimp and teriyaki Steak Noodles, and savor the taste of this Asian-inspired masterpiece.