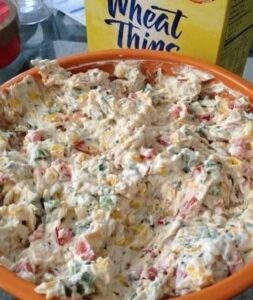 INGREDIENTS YOU'LL NEED:
– 1 Cup.Of Greek yogurt.
– 1 Cup.Of low-fat cottage cheese.
– 1/2 Cup.Of chopped cucumber.
– 1/2 Cup.Of chopped bell peppers (any color).
– 1/4 Cup.Of chopped red onion.
– 2 Tbsp.Of fresh dill, chopped.
– 2 Tbsp.Of fresh parsley, chopped.
– 1 clove garlic, minced.
– Juice of a medium lemon.
– Salt and pepper to taste.
– Assorted fresh vegetables for dipping.
PREPARATION:
1. Combine the Greek yogurt and low-fat cottage cheese in a medium bowl. Well, combine till creamy and smooth.
2. To the yogurt and cottage cheese mixture, include the diced cucumber, bell peppers, red onion, fresh dill, fresh parsley, minced garlic, and lemon juice. Everything should be well mixed together.
3. Add salt and pepper to the dip as desired to suit your taste.
4. After the dip has been properly seasoned, cover the bowl and place it in the refrigerator for at least an hour to let the flavors blend. Although not required, this step is advised for the finest flavor.
5. Just before serving, whisk the dip briefly to ensure that all the ingredients are combined. Place it on a plate after transferring it to a serving dish.
6. Set up a variety of fresh veggies for dipping around the dip basin. The best options include carrot sticks, celery sticks, bell pepper strips, and any other veggies you choose.
7. It's time to enjoy the "Skinny Poolside Dip!" now. Grab a crisp veggie stick, dunk it in the tasty mixture, and enjoy the energizing taste combination. Continue until your want for a snack has passed.