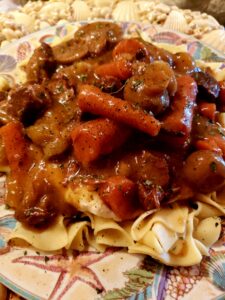 HOW TO MAKE SLOW COOKER BEEF BOURGUIGNON
Every home cook's repertoire should contain a recipe for a flavorful beef stew, and this one meets all the requirements. It needs to be meaty, filled with veggies that are soft but not mushy, and have a rich, thick sauce that covers everything. When paired with excellent bread and red wine, it's the ultimate in party cuisine and comfort.
While beef stew may be cooked slowly all day in a Dutch oven, using a Crockpot or slow cooker makes the process almost too simple, since you can just set it and forget it. Just be sure to chop your meat and vegetables into bits that are sufficiently big so that they do not become barely edible while they are cooking. This dish is perfect for those chilly winter and autumn nights when you just want to cuddle up with a bowl of something warm and comforting.
THE INGREDIENTS LIST:
Chuck roast; I used 2 lbs cut into 1-inch chunks.
1/4 Cup.Of all-purpose flour.
1 Tsp.Of salt, you can add more to taste.
1/2 Tsp.Of ground black pepper, plus more to taste
2 Tbsp.Of olive oil
A chopped white onion.
1 Cup.Of dry red wine.
Chopped celery; I used 3 stalks.
2 medium peeled parsnips – chopped.
4 medium peeled carrots – chopped.
One pound.Of small potatoes – halved.
3 quartered cloves of garlic.
2 bay leaves.
4 Cups.Of beef stock.
2 Tbsp.Of cornstarch.
2 Tbsp.Of water.
PREPARATION:
1st Step
Combine the meat, flour, salt, and black pepper in a bowl of medium size. Mix well. To get an equal coating, toss the steak with the flour.
2nd Step
Put the oil in a big pan and heat it over medium-high heat. After the oil has reached the rippling but not smoking temperature, add half of the steak and let it sear undisturbed for three to four minutes.
3rd Step
After about three to four minutes, turn the meat over and brown the other side. Place the steak, once it has been seared, in a bowl. The remaining steak should be seared, and then it should be transferred to the bowl.
4th Step
Reduce the heat to medium-low and then add the onions to the pan. Cook them for two minutes while stirring them regularly to make them somewhat softer. Mix in the crimson wine. Make use of a wooden spatula to remove any brown particles that have been adhered to the pan.
5th Step
Place the celery, parsnips, carrots, potatoes, and garlic in a large slow cooker. Follow this by adding the bay leaves and beef stock. Add the steak that has been browned along with the onions and the red wine that was in the pan. Cover and cook on high for 5 to 6 hours or on low for 8 hours, depending on how much time you have.
6th Step
When the meat in the stew has reached the point where it can be easily broken apart with a fork, it is ready to be served. The veggies will be completely soft as well as cooked all the way through. You should give the stew a taste and season it to your preference. It may need a dash of salt and some freshly ground black pepper.
7th Step
After combining the cornstarch and water in a separate dish using a whisk, transfer the mixture to the stew and stir it in to slightly thicken it. After one to two minutes of stirring, it ought to become thicker.
8th Step
Place some of the beef stew in each bowl, and then sprinkle each bowl with some chopped parsley.
RECIPE NOTE:
This stew is wonderful both for keeping and freezing. You may store it in the refrigerator for up to 5 days, or you can move it to a container that can go in the freezer, and then you can freeze it for up to 3 months.
For the best results, reheat the dish over low heat with a drop of water on the stovetop.