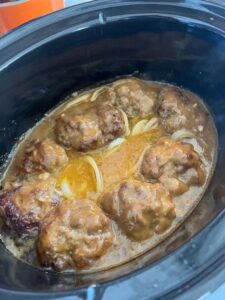 HOW TO MAKE SLOW COOKER SALISBURY STEAK – A COMFORT FOOD CLASSIC
Slow Cooker Salisbury Steak is a comforting and hearty dish that brings together tender beef patties, savory mushroom gravy, and a touch of nostalgia. This classic recipe is perfect for busy days when you want a home-cooked meal ready and waiting when you return. The slow cooker method allows the flavors to meld and the meat to become incredibly tender.
Slow Cooker Salisbury Steak is a wonderful way to enjoy the comforting flavors of a classic dish with minimal effort. The slow cooker does most of the work for you, resulting in tender beef patties bathed in a savory mushroom gravy. Serve it over mashed potatoes, rice, or egg noodles for a hearty and satisfying meal that's sure to please the whole family. Enjoy this timeless comfort food classic with ease and convenience.
THE INGREDIENTS NEEDED:
FOR THE BEEF PATTIES:
1 and 1/2 Lbs.Of ground beef (preferably lean).
1/2 Cup.Of breadcrumbs.
1/4 Cup.Of finely chopped onion.
1/4 Cup.Of milk.
1 large beaten egg.
1 Tsp.Of Worcestershire sauce.
1/2 Tsp.Of garlic powder.
Salt and freshly ground black pepper, to taste.
FOR THE MUSHROOM GRAVY:
1 medium can.Of condensed cream of mushroom soup.
1 packet (1 ounce) dry onion soup mix.
1 1/2 Cups.Of beef broth.
1/2 Cup.Of sliced mushrooms (optional).
2 Tbsp.Of all-purpose flour (for thickening, if needed).
For Garnish: Fresh parsley, chopped (optional)
For Ingredients And Complete Cooking Instructions Please Head On keep on Reading (>)