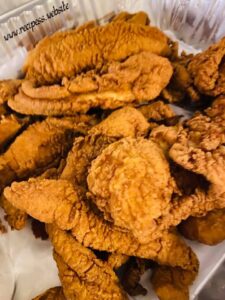 HOW TO MAKE SOUTHERN-FRIED CATFISH?
Catfish is a popular meal in the southern United States, and for good reason. The most typical method to cook it is to fry it in a cornmeal coating, but it may also be served in a number of other ways, including grilling. In addition to being tasty. There are a plethora of fried catfish recipes available, but only a select handful can compete with a few crispy, hot catfish fillets in a cornmeal crust. In less than 20 minutes, you'll have supper on the table thanks to our traditional dish done in the Southern manner. You may just need to locate the fillets since the rest of the components are likely to be in your cupboard or refrigerator already.
Even if you've been avoiding catfish at the fish market because you're scared of its murky flavor, you shouldn't give up on it just yet. On the one hand, it is a reasonably priced and nutritional fish that is ideal for feeding big families. On the other hand, the flavor of the fish is highly dependent on the environment in which it was raised and harvested. Not every catfish will have a muddy flavor, though. Catfish is a bottom feeder, which means that it consumes dirt in the wild. However, farmed catfish are raised in tanks without soil, which results in a brighter taste and a more nutritious source of protein than wild catfish.
Catfish, in addition to being high in protein, is also high in selenium, vitamin B12, and Omega 3 and 6 fatty acids. In comparison, a 3-ounce fillet of raw catfish has just 100 calories but contains 13 grams of protein.
INGREDIENTS LIST:
⅔ Cup.Of yellow cornmeal.
¼ Cup.Of all-purpose flour.
1½ Small spoons.Of seasoned salt.
½ Small spoon.Of black pepper.
½ Small spoon.Of cayenne pepper.
½ Small spoon.Of lemon juice.
¼ Small spoon.Of paprika.
2 large whole eggs.
2 Small spoons.Of hot sauce.
500 grams.Of catfish fillets.
FOR SERVING, I USED:
lemon wedges.
Tartar sauce.
Hot sauce.
PREPARATION:
Step 1:
To begin, combine the cornmeal, with flour, salt, black pepper, cayenne pepper, and lemon juice, and smoked paprika in a large brown bag or ziplock bag and shake well to combine.
Step 2:
In a deep pie dish or large shallow bowl, whisk together the eggs and spicy sauce until well combined.
Step 3:
After that, you can add each fillet to the beaten eggs and turn to cover both sides, then transfer to the cornmeal breadcrumbs and shake vigorously to coat thoroughly with breadcrumbs.
Step 4:
And now, place the fillets on the baking sheet that has been sprayed with cooking spray, and repeat the process with each fillet.
Step 5:
At this step, you need to allow the fish to rest for 10 to 15 minutes in the refrigerator before removing it from the refrigerator.
Step 6:
Following that, you need to pour approximately 4 inches of oil into a large Dutch oven, saucepan, or deep fryer and heat over medium-high heat until the temperature reaches about 340 degrees. Remove from heat and set aside.
Step 7:
And finally, fry the fillets in batches until they are golden brown, then remove them from the pan and drain on wire racks or paper towels.
Step 8:
The final step before serving is letting the fillets rest for 5 to 10 minutes with a squeeze of lemon and a sprinkle of chopped parsley.
TAKE PLEASURE IN IT! AND HAVE A GOOD DAY!!