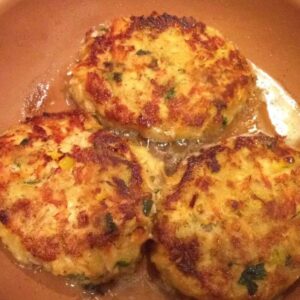 HOW TO MAKE SOUTHERN FRIED SALMON PATTIES
These southern-style fried salmon patties are a delicious and simple way to get this nutritious fish into your diet. You won't need anything more complicated than a few basic ingredients and a little bit of patience while they simmer. They are a breeze to put together, are kid-friendly, and taste great. In addition, they are ideal for satiating the desires you get for anything salty or savory.
The whole preparation time for this meal is just twenty-five minutes, making it a very time-efficient option. It is an excellent method for making use of canned salmon, which can be purchased at a low cost and is accessible in the majority of supermarkets. In addition, the patties have a lovely crisp texture thanks to the mix of cornmeal and flour that is called for in the recipe. The use of onion, egg, and mayonnaise not only contributes to taste but also assists in holding the components together.
Depending on the other ingredients that are included, salmon patties could be considered a healthy option. Protein and omega-3 fatty acids, both of which are beneficial to the health of the brain and heart, may be found in excellent supply in canned salmon.
Yet the number of calories and fat in this dish will rise after you add the flour, cornmeal, and mayonnaise that are called for in the recipe. You may prepare a version that is better for you by using whole wheat flour for all-purpose flour, decreasing the quantity of cornmeal that you use, and replacing standard mayonnaise with either low-fat mayonnaise or Greek yogurt.
THE INGREDIENTS LIST:
Canned salmon; I used a medium can drained.
¼ Cup.Of finely chopped Onion.
¼ Cup.Of All purpose flour.
¼ Cup.Of Cornmeal.
A Large whisked egg.
3 large spoons.Of light Mayo.
Olive Oil for cooking.
Seasonings to taste; salt, pepper, smoked paprika…
PREPARATION:
First Step
To get started, place the salmon in a dish and use a fork to break up the flesh into small pieces.
Second Step
Put the onion, flour, cornmeal, egg, mayonnaise, salt, and pepper to taste into the bowl with the salmon, and mix all of the ingredients together until they are well combined.
Third Step
At this step, you need to shape the mixture into patties that are about the size of a burger.
Fourth Step
Cook the salmon patties equally on both sides until golden brown and fully done in a little amount of oil heated over medium heat.