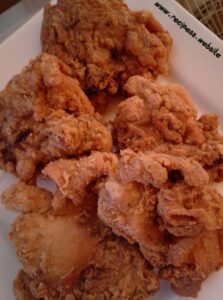 I just season my chicken flour and deep fry low like 300 degrees and than top up to 400 the last five Miniutes for the golden colour.
And I use egg.and add one spoon of water to one egg .
Meaning if your using two eggs use two table spoon water makes the chicken crunchier.
And love to season my chicken with herbs lots of tyme and rosemary help makes the chicken looks pretty.
Enjoy.