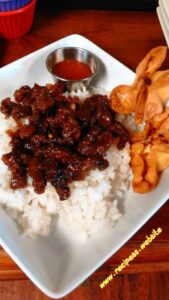 It's super easy to make
I take thinly sliced Chuck steak (one pound) and coat it in 1/2 cup cornstarch, let sit for 15 mins.
In the mean time make your sauce, it's:
3/4 cup brown sugar
1/2 cup of soy sauce,
1/2 cup water
Crushed red pepper flakes, since we like spicy, I add in 2 tsp hot chili paste, set that aside, chop up some garlic and ginger and set aside.
Fry your beef in batches, when beef is done put in a bowl, heat a little oil and sauté garlic and ginger, add your sauce, when it gets to a boil, simmer and put your beef in.
The cornstarch from your beef will soak up the sauce, add chopped green onions, and serve. (I didn't have any green onions).
Enjoy.