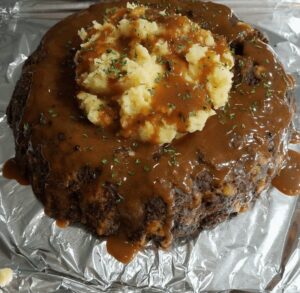 HOW TO MAKE STOVE TOP MEATLOAF
Stove Top Meatloaf is a classic comfort food that brings back fond memories of family gatherings and home-cooked meals. This dish provides a unique spin on the classic meatloaf that is cooked in the oven. As a result, it is a time-saving and hassle-free alternative that is ideal for those occasions when you don't want to heat the whole kitchen.
A classic meatloaf prepared in the oven may be replaced with a tasty and time-saving dish called Stove Top Meatloaf. Its savory taste, caramelized crust, and sweet-and-tangy glaze are sure to make it a favorite among the members of your family. This dish will excite your taste senses and have everyone at the table begging for more food, whether you are preparing for a special occasion or just need a big supper. Have fun!
In this detailed recipe, we'll walk you through the steps for making a mouthwatering Stove Top Meatloaf that's juicy, delicious, and perfect for any occasion.
THE INGREDIENTS LIST:
FOR THE MEATLOAF:
1 and ½ Lbs.Of ground beef (80% lean).
1 Cup.Of breadcrumbs (plain or Italian).
1/2 Cup.Of milk.
1/2 Cup.Of finely chopped onions.
1/2 Cup.Of finely chopped green bell pepper.
1/2 Cup.Of finely chopped celery.
2 cloves garlic, minced.
2 large eggs, beaten.
1/4 Cup.Of ketchup.
1/4 Cup.Of barbecue sauce.
1 Tbsp.Of Worcestershire sauce.
1 Tsp.Of dried thyme.
1 Tsp.Of dried oregano.
1/2 Tsp.Of salt.
1/2 Tsp.Of black pepper.
FOR THE GLAZE:
1/4 Cup.Of ketchup.
2 Tbsp.Of brown sugar.
1 Tbsp.Of apple cider vinegar.
For Ingredients And Complete Cooking Instructions Please Head On keep on Reading (>)