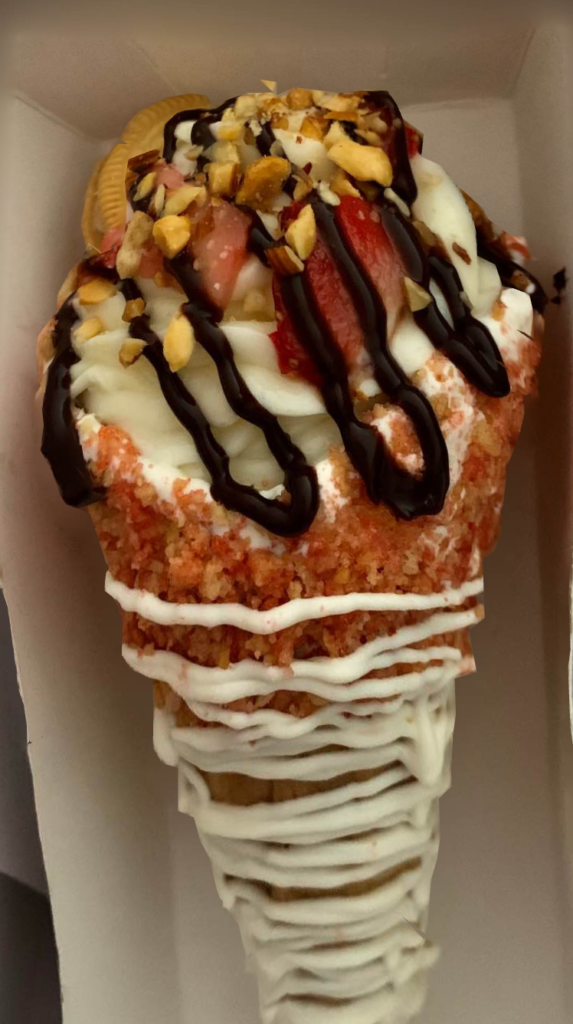 HOW TO MAKE STRAWBERRY CHEESECAKE CONES
Making these Strawberry Crunch Cheesecake Cones is such a fun activity, and the result is a delectable treat. Cones filled with cheesecake and strawberries, glazed, and topped with a crumble made of strawberry crunch are what you'll find in these treats.
I enjoy cooking fun sweets!!!!! These Strawberry Crunch Cheesecake Cones are definitely at the top of my list of interesting and creative sweets, and I have to say that they take the cake. Not only are these cheesecake cones delectable, but they are also really simple to put together. There is no need to turn on the oven for this recipe!
These cones taste the finest if they are served on the same day that they are made. If you store them in an airtight container, you may keep them in the refrigerator for up to two days. If you leave the cones in the refrigerator for too long, they will get mushy. You may have the filling ready ahead of time and then, if necessary, stuff the cones at a later time.
THE INGREDIENTS LIST:
6 sugar cones.
1 Cup.Of fresh sliced strawberries.
THE CHEESECAKE FILLING INGREDIENTS:
16-ounces.Of cream cheese; I used 2 blocks softened.
1 Tsp.Of vanilla extract.
½ Cup.Of powdered sugar.
THE STRAWBERRY CRUNCH CRUMBLES INGREDIENTS:
Golden Oreos; I used 10.
2 Tbsp.Of freeze-dried strawberries.
2 Tbsp.Of instant vanilla pudding mix.
2 Tbsp.Of strawberry gelatin.
THE GLAZE INGREDIENTS:
1 Cup.Of powdered sugar.
2 Tbsp.Of milk.
⅛ Tsp.Of vanilla extract.
A pinch.Of salt.
PREPARATION:
Step 1:
To prepare the filling for the cheesecake, put the cream cheese that has been softened into a large mixing bowl. Add the vanilla essence and powdered sugar, and mix well.
Step 2:
Use a hand mixer or a stand mixer to beat the ingredients together until they are uniform and slightly aerated.
Step 3:
For the strawberry, crunch crumbles, put some Oreos in the food processor along with some freeze-dried strawberries (or alternatively use a plastic storage bag and mallet for this step). They need to be run at a high speed until everything is sufficiently broken up.
Step 4:
Do not prepare the vanilla pudding mix before adding it to the dish. In its place, add two teaspoons of strawberry gelatin mix and two tablespoons of vanilla pudding mix (do not prepare the mix). Stir thoroughly.
Step 5:
To prepare the glaze, add the milk, confectioners' sugar, salt, and vanilla extract in a bowl and beat thoroughly using a hand mixer or a stand mixer.
Step 6:
To assemble, just fill the cones with cheesecake filling and cut strawberries, then top with whipped cream. Include even more strawberries in the topping.
Step 7:
After pouring the glaze over the cones, immediately sprinkle a generous amount of the strawberry crunch crumble over top.