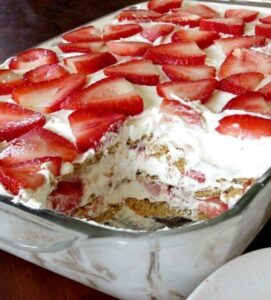 THE INGREDIENTS LIST:
FOR THE CAKE:
– 2 Cups.Of fresh strawberries, hulled and sliced.
– 1 box.Of graham crackers (approximately 14 sheets).
FOR THE CREAM CHEESE FILLING:
– 16-oz.Of cream cheese, softened (2 blocks).
– 1 Cup.Of powdered sugar.
– 1 Tsp.Of vanilla extract.
– 2 Cups.Of heavy whipping cream.
FOR THE TOPPING:
– Additional sliced strawberries for garnish
– Crushed graham crackers (optional, for decoration)
PREPARATIONS:
1st Step
To begin, remove the stems from the fresh strawberries and cut them into thin slices. Keep a few pieces aside in case you want to use them as a garnish later. Your icebox cake is going to get an extra helping of fruity deliciousness thanks to the perfectly ripe and luscious strawberries.
2nd Step
Let your Cream cheese soften before using. In a large mixing bowl, whip the cream cheese until it is smooth and creamy. After adding the powdered sugar and the vanilla essence, continue to whisk the mixture until it is fluffy and thoroughly blended.
3rd Step
To make the heavy whipping cream into stiff peaks, whisk it in a separate dish until it reaches the desired consistency. This will result in the filling having a texture that is light and airy. Combining the whipped cream with the cream cheese mixture should be done carefully. Combine the two ingredients with the help of a spatula until you get something that resembles mousse and is smooth.
4th Step
Assemble the cake either on a serving plate or in a rectangular baking dish to get started. To begin, line the bottom of the dish with graham crackers that have been broken into pieces to match the dimensions of the dish.
5th Step
On top of the graham crackers, evenly distribute a substantial amount of the cream cheese filling. Place a layer of cut strawberries on top of the cream cheese filling and arrange them in a layer. Be careful to save some aside for use in subsequent layers and as a garnish.
6th Step
Continue to stack the dessert, alternating between layers of graham crackers, cream cheese filling, and cut strawberries, until all of the ingredients have been used up. Put the finishing touch on the cake by adding a layer of cream cheese filling on top.
7th Step
Wrap the cake in plastic wrap and place it in the refrigerator for at least four hours, but preferably for the whole night. The graham crackers will become more cake-like in consistency once they have been chilled for the required amount of time.
8th Step
If you like, you may top the Strawberry Cream Cheese Icebox Cake with more sliced strawberries and crumbled graham crackers just before serving it to your guests. The cake should be easy to cut through so that all of the layers may be seen.