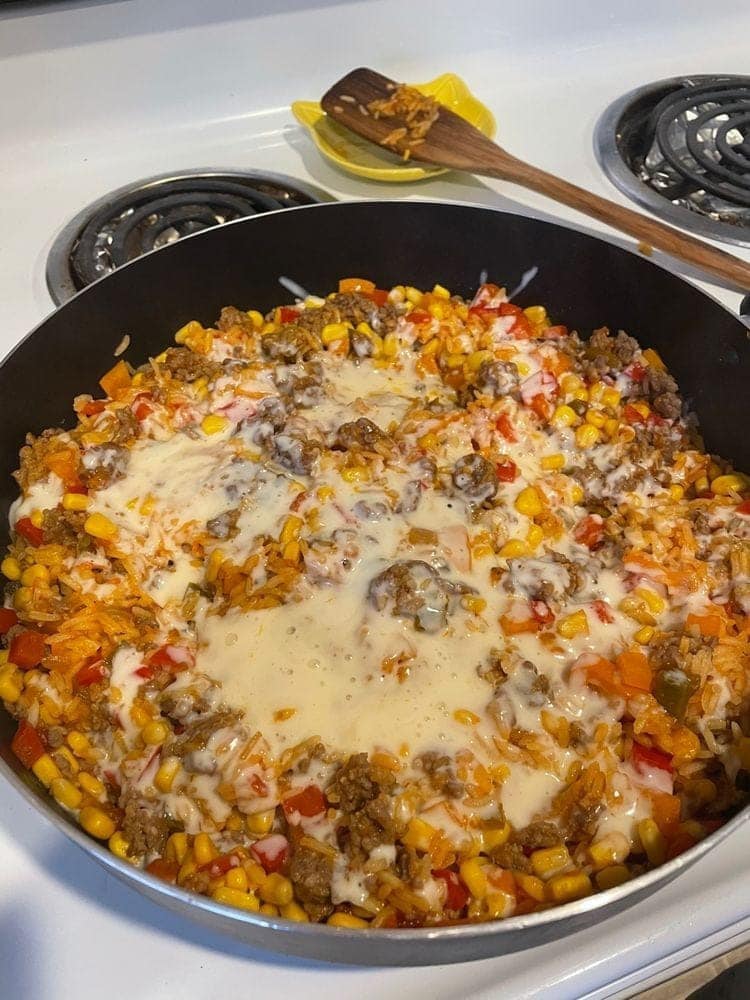 Ingredients:
One pound of ground beef.
Two bell peppers, diced.
One onion, finely diced.
3 cloves of garlic, minced.
One tbsp. of Worcestershire Sauce.
One can (15 oz) of low-sodium beef broth.
One can (15 oz) of diced tomatoes.
One cup of uncooked long-grain white rice.
One tablespoon of Italian seasoning.
One teaspoon of salt.
Half a tsp. of black pepper.
3/4 cup of grated Mozzarella cheese.
3/4 cup of grated Cheddar cheese.
Instructions:
Step 1
First, in a roomy skillet, sauté the ground beef, breaking it apart into smaller pieces as it cooks.
Step 2
And, as the beef is nearing completion, add the onions and bell peppers, then, continue cooking for 5 to 10 minutes or until they become tender.
Step 3
Then, add the minced garlic to the mixture, allowing it to cook for a couple of minutes until its fragrance becomes noticeable.
Step 4
After that, combine the Worcestershire Sauce, beef broth, diced tomatoes, rice, Italian seasoning, salt, and pepper into the mixture, and bring the aggregate to a boil even as stirring.
Step 5
Next, once it reaches a boil, reduce the heat to a simmer, and cover the skillet and let the mixture cook for about 20 minutes, remembering to give it a stir halfway through.
Step 6
When the rice is cooked to your desired tenderness, gently fold in half of the combined cheeses until they melt and blend with the beef and rice.
Step 7
After that, sprinkle the remaining cheese on top. Re-cover the skillet and let the cheese melt into a gooey goodness. If you're short on time and using an oven-safe skillet, you can expedite the cheese melting process by placing the skillet under a broiler.
Step 8
Once the cheese has melted beautifully, remove the skillet from the heat. Finally, serve this delectable dish hot and savor the classic flavors of stuffed peppers in a fraction of the time!
Tips:
– Experiment with different cheese blends for unique flavors.
– Substitute beef with plant-based meat or extra veggies.
– Prep in advance and reheat when needed.
Variations:
– Add chilies, corn, and beans for a twist.
– Include jalapeños or hot sauce for heat.
– Swap rice for cauliflower rice or quinoa.
Have a nice day!!