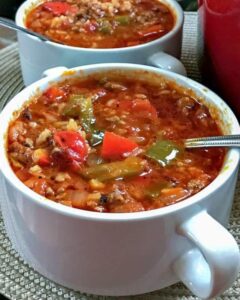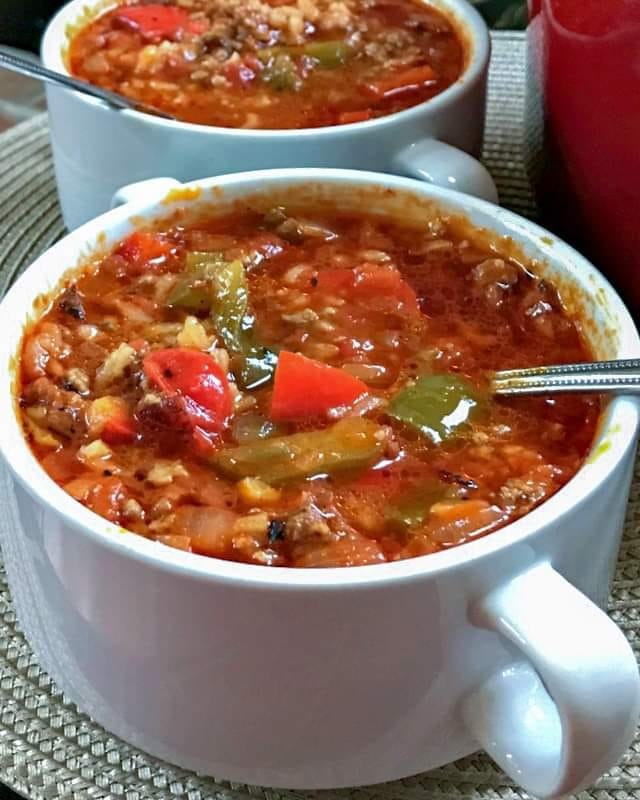 THE INGREDIENTS LIST:
500 grams.Of ground beef or turkey.
A large diced onion.
3 large bell peppers (any color), diced.
4 garlic cloves – minced.
A large can.Of diced tomatoes.
1 medium can.Of tomato sauce.
4 Cups.Of beef broth.
1 Cup.Of cooked rice.
1 Tsp.Of dried oregano.
1 Tsp.Of dried basil.
1/2 Tsp.Of paprika.
Salt and pepper to taste.
Shredded cheese and fresh parsley for garnish (optional).
PREPARATION:
1st Step
Prepare a large Dutch oven or soup pot by heating it over a medium flame. After adding the ground beef or turkey, heat it until it has browned, breaking it up into little pieces with a spoon or spatula as it cooks.
2nd Step
After the beef has been browned, add the onion that has been diced to the saucepan. Sauté the onion for around three to four minutes, or until it becomes translucent and becomes somewhat softer.
3rd Step
Mix in the chopped bell peppers as well as the garlic that has been minced. Continue cooking for another two to three minutes, giving the flavors time to come together.
4th Step
Put the diced tomatoes, tomato sauce, and beef broth in the saucepan. Add the diced tomatoes together with their juice. Make sure everything is well combined by giving it a good stir.
5th Step
Add some dried oregano, dried basil, paprika, some salt, and some pepper to the soup before serving. Repeat the stirring process to ensure that the spices are distributed evenly throughout the soup.
6th Step
Bring the soup up to a boil, and then immediately turn the heat down to a low setting. While the flavors are developing, the pot should be covered and left to simmer for around 20 to 25 minutes.
7th Step
While the soup is coming to a simmer, cook the rice in accordance with the directions on the box. After it has been cooked, put it to the side.
8th Step
After the soup has been allowed to boil for a while, the rice should be added to the pot. Give it a good stir to make sure the rice is well distributed throughout the broth.
9th Step
Taste the soup, then make any necessary adjustments to the seasoning. You are free to adjust the seasoning to your liking by using more salt, pepper, or herbs if desired.
10th Step
Allow the soup to boil for a further five to ten minutes so that the rice may absorb some of the flavors that are in the soup.
11th Step
When the soup has reached the desired consistency, take it off the heat. When ready to serve, bring to a boil and top with fresh parsley and grated cheese, if preferred.
12th Step
You may enjoy the Stuffed Pepper Soup your whole dinner by eating it on its own, or you can serve it with some crusty bread on the side.