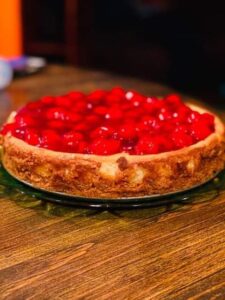 HOW TO MAKE SUGAR COOKIE CHERRY CHEESECAKE
The most lovely time of the year has arrived: cookie season! I look forward to these days all throughout the year. I can't believe I haven't thought to make these delicious morsels sooner since they are so simple to prepare. Because these are such simple ingredients, there's a good chance you already have everything you need on hand. You will need graham crackers, cream cheese (wow, between all of us, we go through an absurd amount of cream cheese! ), butter, sugar, and the standard cheesecake ingredients like eggs and vanilla extract.
The cookie dough and cheesecake filling both need to be prepared in their own separate bowls using an electric mixer. After that, form the cookie dough into a bowl-like shape and make an indentation in the center of it. Put a dollop of cheesecake filling (or pipe it in if you want) into each of the individual wells, and then bake the cheesecakes.
You are not obliged to top these cheesecake cookies with cherry pie filling if you do not like the flavor, and you are free to use any topping you like. From drizzles of chocolate ganache and salted caramel sauce to lemon curd cooked in the microwave. No matter how you decide to prepare them, they are certain to become a cherished part of your holiday celebrations for many years to come.
HERE IS THE LIST OF ALL INGREDIENTS NEEDED:
1 1/4 Cups.Of finely crushed graham crackers.
1 Cup.Of all-purpose flour.
1 1/2 Tsp.Of baking powder.
1 1/2 sticks.Of unsalted butter; softened to room temp.
1/2 Cup.Of packed light brown sugar.
A large separated egg.
Softened cream cheese; I used 4-ounces.
1/4 Cup.Of granulated sugar.
1/2 Tsp.Of vanilla extract.
A jar.Of cherry pie filling.
PREPARATION:
1st Step
Turn the oven up to 350 degrees Fahrenheit. Prepare baking sheets by lining them with baking mats made of silicone or parchment paper.
2nd Step
Combine the graham cracker crumbs, flour, and baking powder in a large bowl and mix well with a whisk.
3rd Step
In a bowl of medium size, using an electric mixer, cream together the brown sugar and butter until the mixture is frothy and light, which should take approximately two minutes.
4th Step
Add the egg white, and continue beating until everything is well blended. Combine the graham cracker mixture with the butter mixture by stirring them together until they are just mixed.
5th Step
In a separate medium bowl, mix the cream cheese and granulated sugar by beating them together until they are incorporated. Mix in the egg yolk and the vanilla until it is completely incorporated.
6th Step
Using a medium cookie scoop, which holds about 2 teaspoons of dough, remove portions of the cookie dough and set them on baking sheets that have been prepped.
7th Step
Create a tiny bowl shape by flattening the ball slightly and pushing your thumb or a round measuring teaspoon into the middle of the ball, and proceed in the same way with the remaining dough.
8th Step
Place the cream cheese mixture in the indentations of the cookies using a spoon or a piping bag. And bake in an oven that has been warmed for 12 minutes, or until the filling is just beginning to set and the cookies are beginning to become a light golden color.
9th Step
Allow to cool for 5 minutes on the baking sheets before transferring to a wire rack to cool fully. And just before serving, top cooled cookies with cherry pie filling.