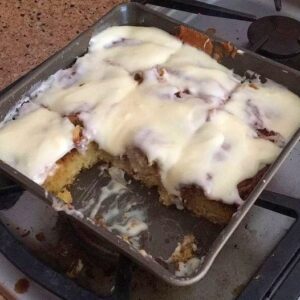 HOW TO MAKE SWEET AND MOIST CINNAMON ROLL CAKE
This vanilla loaf cake is filled with a cinnamon-sugar mixture that is swirled throughout, and then it is frosted with a sweet white frosting. The result is a cake that tastes just like cinnamon rolls, but it does not need any further preparation.
On days like this, I'm aware of the simple joy that comes with maintaining a food blog. It's not only about preparing mouthwatering desserts in the kitchen; it also involves consuming them. When I get together with my friends, they often ask me how I am able to think up new dishes on the regular. That's a simple question to answer; all I have to do is consider what it is that I'm yearning for at the moment, and the choices are almost limitless.
As a result of the use of sour cream, this cake has a tender crumb that retains its moist texture. It also has an excellent flavor. In addition, much like streusel, a cinnamon-sugar combination has the ability to transform an ordinary cake into something that is really tasty. After that, drizzle some vanilla frosting on top, and you'll have a cake that tastes just like homemade cinnamon rolls!
YOU'LL NEED:
THE CAKE INGREDIENTS:
200 grams. Of all-purpose flour.
1 Tsp.Of baking powder
1/4 Tsp.Of baking soda
1/4 Tsp.Of salt
120 grams.Of softened butter.
150 grams.Of granulated sugar.
2 large beaten eggs.
1 Tsp.Of vanilla extract.
3/4 Cup.Of sour cream.
THE CINNAMON FILLING INGREDIENTS:
65 grams.Of granulated sugar.
2 Tsp.Of ground cinnamon.
1/2 Cup.Of chopped toasted pecans.
THE GLAZE INGREDIENTS:
60 grams.Of powdered sugar.
1 to 2 Tbsp.Of heavy cream.
1/4 Tsp.Of pure vanilla extract.
1 1/2 Tbsp.Of cream cheese.
PREPARATION:
1st Step:
Place a rack in the center of the oven and turn the temperature up to 350 degrees Fahrenheit (180 degrees Celsius). Prepare a loaf pan that measures 8 1/2 × 4 1/4 inches with butter.
2nd Step:
To prepare the cake, start by sifting together the flour, baking powder, baking soda, and salt in a medium basin. Put aside.
3rd Step: In the bowl of an electric mixer equipped with the paddle attachment, beat the butter and sugar together on medium speed for approximately three minutes, or until the mixture is light and fluffy.
4th Step:
Incorporate the eggs by beating them in one at a time until everything is combined. If it's required, use a scraper to clean the inside of the bowl, including the sides and the bottom. Beat in vanilla extract.
5th Step:
Mix in the sour cream while the mixer speed is reduced to low. Add the flour mixture, and continue to mix until it is completely incorporated. Take care not to overmix.
6th Step:
To prepare the cinnamon filling, first put the sugar, cinnamon, and pecans into a medium bowl and mix them until they are completely blended.
7th Step:
Spoon a third of the batter into the dish that has been prepared. Coat the bottom of the pan with half of the cinnamon sugar mixture.
8th Step:
Spread the remaining cinnamon sugar over the bottom of the pan, followed by half of the remaining batter, and finishing with the remaining batter.
9th Step:
Use a knife to make gentle swirling motions, but be careful not to overdo it to the point where the cinnamon mixture is thoroughly combined with the batter.
10th Step:
Bake for forty to fifty minutes, or until a toothpick inserted into the middle of the cake comes out clean. On a wire rack, give it time to cool down fully.
11th Step:
To prepare the frosting; cream cheese, vanilla extract, and powdered sugar should be mixed together with a whisk until the ingredients are smooth and blended. If the frosting is too thick, add a little bit more milk; if it is too thin, add a little bit more sugar. Spread the frosting all over the cake.
NOTE:
The cake may be kept at room temperature for up to three days in an airtight container, or it can be refrigerated for up to five days. Cake may also be frozen for up to one and a half months before consumption. To defrost, either place the item on the counter while it is still covered or place it in the refrigerator overnight.