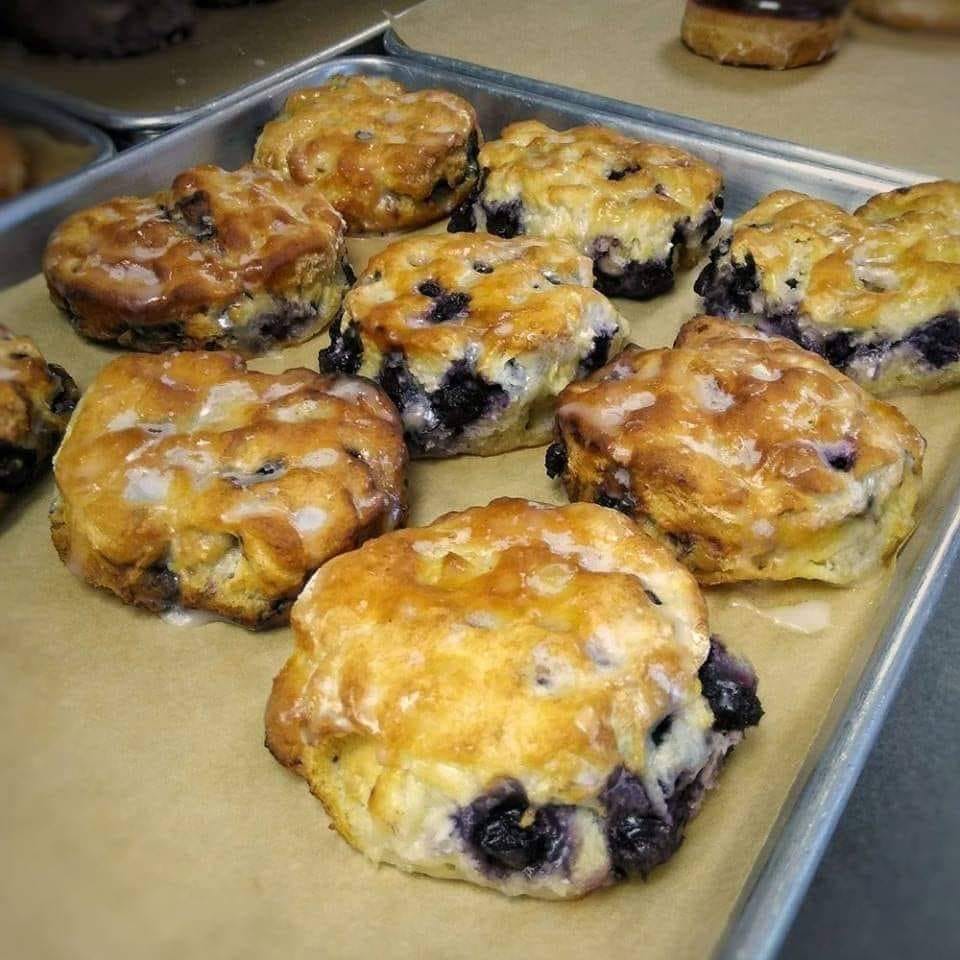 INGREDIENTS YOU'LL NEED:
FOR THE BISCUITS:
2 Cups.Of all-purpose flour.
1/4 Cup.Of granulated sugar.
2 1/2 Tsp.Of baking powder.
1/2 Tsp.Of baking soda.
1/2 Tsp.Of salt.
1/2 Cup.Of unsalted butter (1 stick), cold and cubed.
1 Cup.Of fresh blueberries.
1/2 Cup.Of buttermilk.
1 Tsp.Of vanilla extract.
1 Tbsp.Of lemon zest (optional for added freshness).
FOR THE GLAZE:
1 Cup.Of powdered sugar.
2 Tbsp.Of milk.
1/2 Tsp.Of vanilla extract.
INSTRUCTIONS:
1st Step
Prepare your oven to 425°F (220°C) and line a baking sheet with parchment paper.
2nd Step
Mix Dry Ingredients: In a large mixing bowl, combine the all-purpose flour, granulated sugar, baking powder, baking soda, and salt. Mix them together until well combined.
3rd Step
Incorporate the Butter: Add the cold, cubed butter to the dry ingredients, then work the butter into the flour mixture until it resembles coarse crumbs.
4th Step
Add Blueberries and Wet Ingredients: Gently fold in the fresh blueberries, buttermilk, vanilla extract, and lemon zest (if using). Mix until just combined; be careful not to overmix, as this can make the biscuits tough.
5th Step
Shape the Biscuits: Turn the dough out onto a lightly floured surface. Pat it into a 1-inch thick rectangle. Using a round biscuit cutter or a glass, cut out biscuits and place them on the prepared baking sheet, leaving a little space between each.
6th Step
Bake: Bake the biscuits in the preheated oven for 12-15 minutes or until they are golden brown and have risen beautifully.
7th Step
Prepare the Glaze: While the biscuits are baking, make the glaze by whisking together powdered sugar, milk, and vanilla extract in a small bowl until it forms a smooth and pourable consistency.
8th Step
Glaze and Serve: Once the biscuits are out of the oven and slightly cooled, drizzle the glaze over them. Let the glaze set for a few minutes.
9th Step
Enjoy the Sweet Blueberry Biscuits: Serve your Sweet Blueberry Biscuits warm and savor the delightful combination of tender, buttery biscuits with the burst of sweet, juicy blueberries and that irresistible glaze.