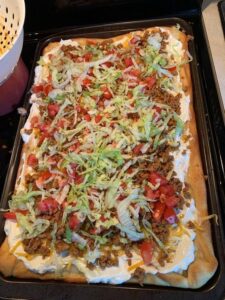 HOW TO MAKE TACO PIZZA
Tacos meet pizza in this scrumptious Taco Pizza Recipe! This Taco Pizza is a tasty and simple alternative to traditional pizza night. Made with refried beans, salsa, taco meat, and cheese, and it is topped with all of your favorite taco toppings.
Tacos and pizza are favorites of almost everyone I know. So, it only seems logical that something like taco pizza would be pleasant. That's fantastic. After being loaded with refried beans, salsa, taco meat, and sharp cheddar cheese, a soft pizza crust is placed in the oven and cooked until bubbling and golden. Although while you could stop right there and your taco pizza would still be very wonderful, one of my favorite ways to top my taco pizza is with shredded lettuce, olives, tomatoes, and sour cream — basically anything and anything you would put on a taco.
Taco pizza is a family-favorite dish. And this is hands down my favorite technique for repurposing the leftovers from our taco night into a scrumptious and filling new supper. The versatility of taco pizza makes it an excellent choice for accommodating a wide variety of dietary needs and tastes, which is one of the best things about this dish. This dish may either be started from scratch, or you can utilize whatever you have left over from a previous meal. I will guide you through the process of both choices!
YOU'LL NEED:
INGREDIENTS NEEDED FOR THE PIZZA DOUGH:
¾ Cup.Of warm water.
2 Tsp.Of dry active yeast.
½ Tbsp.Of olive oil.
½ Tbsp.Of honey.
½ Tsp.Of salt.
1 ¾ Cup.Of flour.
INGREDIENTS NEEDED FOR THE TACO MEAT MIXTURE:
250 grams.Of ground beef ( you can also use chicken or turkey).
¼ Cup.Of tomato sauce.
2 Tbsp.Of water.
1 Tbsp.Of taco seasoning.
INGREDIENTS NEEDED FOR THE ASSEMBLING:
cooking spray.
500 grams.Of pizza dough.
1 Cup.Of refried beans.
¾ Cup.Of salsa.
1 to 2 Cups.Of prepared taco meat.
2 Cups.Of shredded cheddar cheese.
Toppings: chopped lettuce, tomatoes, onions slices, avocado, sour cream…etc.
PREPARATION:
TO MAKE THE PIZZA DOUGH:
1st Step:
In a large mixing basin (or the bowl of your stand mixer fitted with the dough hook), combine the water and yeast and let rest until the yeast is frothy, about 5 minutes.
2nd Step:
Whisk in the honey and oil to the yeast mixture. Mixing constantly, gradually add the flour and salt.
3rd Step:
After combined, knead the dough for 5 to 9 minutes by hand on a lightly floured surface or for 3 to 4 minutes with a dough hook on low to medium speed. You need to work toward a smooth ball of dough.
4th Step:
Put the dough in an oiled basin, cover it with a clean kitchen towel or plastic wrap, and let rise in a warm location for 20 to 30 min until the dough has doubled in size.
PREPARE THE TACO MEAT AS FOLLOWS:
1st Step:
Break up the ground beef into little pieces as it browns over medium heat in a medium pan. After the meat is browned, return it to the pan and, if necessary, drain off any remaining fat.
2nd Step:
Add in some taco seasoning, water, and tomato sauce. Reduce heat to low and simmer for 5-10 minutes to thicken.
AND TO ASSEMBLE THE TACO PIZZA, YOU WILL NEED TO :
1st Step:
Put in a baking dish and bake at 400 degrees F. Oil or cooking spray a pizza pan that is 12 inches in diameter.
2nd Step:
On a lightly oiled pizza pan, roll out the pizza dough. Refried beans should be spread out evenly throughout the pizza dough. Spread the salsa over the beans. After topping the salsa with the cheese, sprinkle the taco meat on top.
3rd Step:
Cook for 15–18 minutes, or until crust is golden and cheese is bubbling. Wait 5-10 minutes for the pizza to cool before slicing and topping it.