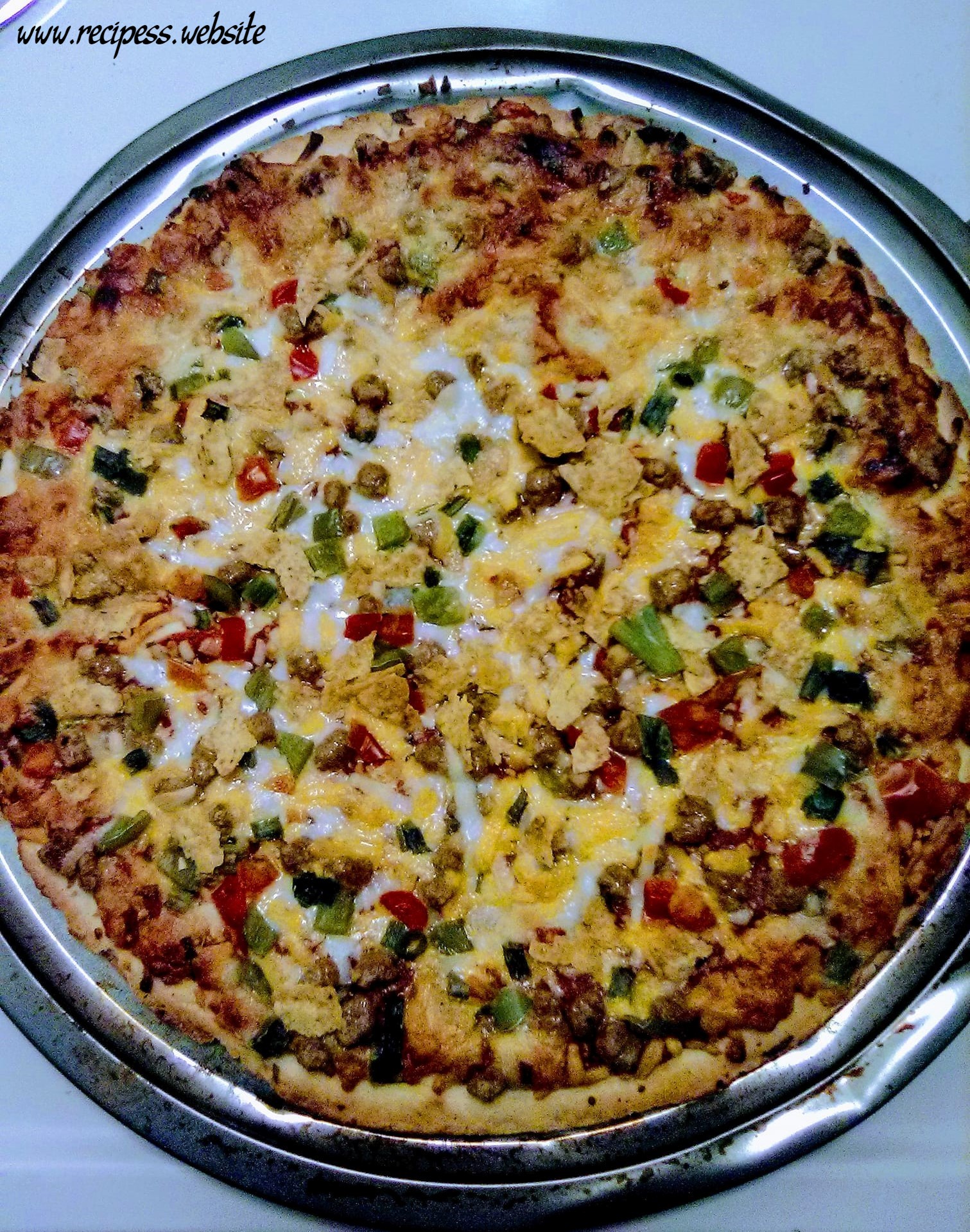 HOW TO MAKE TACO PIZZA?
Oooh!! Taco Pizza — Simple, quick 30 minutes to prepare, and tastes like a taco on a pizza crust!! Your favorite taco-seasoned ground beef with melted cheese and your choice of toppings!!
Just imagine you will enjoy your favorite ingredients for a beef taco in a pizza shape, and you'll have it ready in 30 minutes in this simple Mexican pizza.
Instead of regular pizza sauce, I spread a coating of browned meat over the crust, and the melted cheese enhances the flavor of the taco-seasoned ground beef. On top of that, everything being delicious is a match made in heaven.
The cooling lettuce and tomatoes are excellent contrasts to the warm taco-pizza.
Here's the exact list of ingredients that I used, but feel free to add your own toppings.
TO MAKE OUR TACO-PIZZA VERSION, YOU'LL NEED :
Around 500 grams.Of Extra-lean ground beef.
One medium baked pizza crust, I bought the ready-to-use crust.
A Cup.Of Cracker-Barrel Shredded Cheese.
35 grams. Of Taco Seasonings used the Less Sodium packet.
FOR TOPPING, I USED THESE INGREDIENTS BUT FEEL FREE IN YOUR KITCHEN:
5 mashed Taco shells.
A cup.Of Shredded lettuce.
1 medium Tomato, I removed the seeds and chopped them into small pieces.
1/3 Cup.Of Salsa.
PREPARATION METHOD:
Step 1:
Before I started, I set my oven temperature to preferably the setting recommended 400 degrees Fahrenheit.
Step 2:
Then, according to the package directions, I cooked the meat in a large skillet, and I used Taco Seasonings, salt, and black pepper to season.
Step 3:
At this stage, I spread the browned beef over the ready-to-use pizza crust, and I covered it with a cup of shredded cheese.
Step 4:
Then, I prepared the plate to put it In the oven, and baked for around 15 minutes, until the edges of the crust are crispy.
Step 5:
And, when I removed it from the oven, on the top of the melted cheese, I add shredded lettuce, chopped tomato, and I spread the salsa over them all!!!
IT'S ABSOLUUUUTLY DELICIOUS! Try this taco-pizza with your favorite and show us the results in the comments section, please be creative!!
For more recipes like this taco-pizza, take a look at the related posts below!!