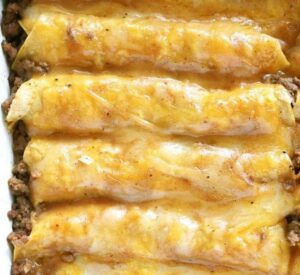 THE INGREDIENTS LIST:
FOR THE BEEF FILLING:
• 1 Lb.Of ground beef.
• 1 small chopped onion.
• 2 minced garlic cloves.
• 1 Tsp.Of ground cumin.
• 1 Tsp.Of chili powder.
• 1/2 Tsp.Of paprika.
• Salt and black pepper to taste.
FOR THE ENCHILADA SAUCE:
• 2 Cups.Of tomato sauce.
• 1 Cup.Of beef broth.
• 2 cloves garlic, minced.
• 1 Tbsp.Of chili powder.
• 1 Tsp.Of ground cumin.
• 1/2 Tsp.Of dried oregano.
• 1/2 Tsp.Of smoked paprika.
• Salt and black pepper to taste.
FOR ASSEMBLING:
• 8 small corn tortillas.
• 2 Cups.Of shredded cheddar or Monterey Jack cheese.
• Chopped fresh cilantro. (optional).
PREPARATION:
1st Step
Over medium-low heat, use a spoon to break up the ground beef and cook it in the pan until it's browned and done. Get rid of any extra fat.
2nd Step
Cut up the onion and garlic and add them to the pan. Add the onion and cook for two to three more minutes, until it turns clear.
3rd Step
Combine the chili powder, paprika, salt, and black pepper with the ground cumin. Add one more minute of cooking time to let the flavors mix, set it aside.
4th Step
Put tomato sauce, chicken or beef broth, chili powder, ground cumin, dried oregano, smoked paprika, salt, and black pepper in a pot. Over medium-low heat, bring to a slow boil.
5th Step
Stir the sauce every once in a while as it cooks for 10 to 15 minutes, or until it gets a little thicker. Take it off the heat and set it aside.
6th Step
Now, prepare the oven to 350°F (175°C) and warm the corn tortillas in the microwave for 30 seconds to make them easier to work with.
7th Step
Put some of the enchilada sauce on the bottom of a baking dish. Then, take a tortilla and put some of the beef filling in the middle (down the middle). Put it in the baking dish seam-side down after rolling it up.
8th Step
Fill and roll the rest of the tortillas as you please. Then, make sure all the enchiladas are well covered by pouring the rest of the enchilada sauce over them.
9th Step
Cover the top with shredded cheese and bake in a hot oven for 20 to 25 minutes, or until the cheese is bubbly and golden brown. If you want, you can add chopped cilantro and sliced green onions as a garnish.
Tex-Mex Beef Enchiladas are a culinary journey through the heart of Tex-Mex cuisine, offering a symphony of flavors and a perfect blend of textures. Whether served with a dollop of sour cream or a side of guacamole, this dish is sure to be a hit at any gathering. Embrace the bold, spicy, and cheesy goodness of Tex-Mex Beef Enchiladas, and savor the taste of this festive fiesta on your plate.