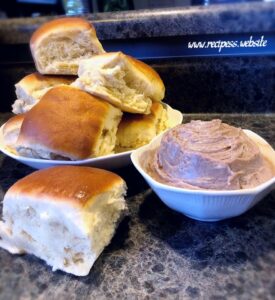 HOW TO MAKE TEXAS ROADHOUSE ROLLS?
Rolls that are pillowy, fluffy, and dripping with butter are a great replica for Texas Roadhouse Rolls!
This is a yeasted bread roll recipe that requires a total of about 90 minutes of rising time.
One of the reasons you'll like this recipe is because it's flexible. My Texas Roadhouse rolls recipe is not too sweet, making it a versatile side dish that can be served with a variety of entrees and sides. And it's a straightforward process. If you're looking for a yeasted bread recipe, this one is very simple to follow. Learn how to make this recipe and you'll be a bread-making master in no time. And all you need are a few simple ingredients to get started. Most likely, you already have everything you need to prepare this dish in your kitchen. Simply mixing basic components in various combinations results in some spectacular results, don't you think?
Take advantage of these soft rolls in their intended function as dinner rolls. While I believe these would be great with virtually any meal, I would particularly suggest that you try them with Easy Roast Chicken. Additionally, I believe these rolls would make fantastic small breakfast sandwiches.
I really like these fluffy, soft rolls that taste just like Texas Roadhouse, and I am certain that you will as well.
INGREDIENTS LIST:
4 Cups.Of all-purpose flour.
Half a Cup.Of honey.
180 mL.Of milk.
A small spoon.Of salt.
4 separated small spoons.Of butter.
An egg, preferably a large-sized one.
A packet.Of active dry yeast.
PREPARATION:
Step 1:
I brought the milk to a boil in a saucepan first, and I removed it from heat as soon as it began to steam and that tiny bubbles were formed on the edges of the saucepan, and I placed it till its temperature was between 80 and 90 degrees.
Step 2:
After that, I whisked together the milk, with the active dry yeast, and honey In a small mixing basin until smooth.
Step 3:
In a large mixing bowl, I whisked together 3 large spoons.Of butter, the room temperature custard mixture, and 2 cups of all-purpose flour until well combined, stirring gently until the mixture was smooth.
Step 4:
At this point, it was time to add the remaining 2 cups of flour and stir until a dough was formed, and I added salt and kneaded again for around 8 minutes until smooth and elastic.
Step 5:
Then I turned the dough out onto a floured surface and kneaded it for a few more minutes until it was smooth, and I transferred it to a big mixing bowl after I sprayed it with cooking spray.
Step 6:
Following that, I refrigerated the dough for an hour after covering the bowl with plastic wrap or a wet kitchen towel.
Step 7:
I removed the dough from the fridge, rolled it out on the floured surface again, folded the paper in half, and carefully close it, and I cut the dough into 24 equal-sized pieces and put them on two baking pans that have been gently greased.
Step 8:
I covered the dough and let it rise for approximately 40 minutes, just until it has doubled in size.
Step 9:
I turned the temperature of my oven to 350 degrees F and baked for 12 to 15 minutes until the top was light golden brown and crispy.
Step 10:
To finish off the muffins, I melted the remaining butter and brush it on top of the muffins.
NOTES:
Use the yeast of your choice. This recipe may be prepared with either instant dry yeast or active dry yeast, depending on your preference. Despite the fact that the recipe is stated for quick yeast, it is the same for active yeast; it will just take approximately 10 minutes to activate with the milk and honey in the recipe.
Begin with a cup of hot, scalded milk. When making a yeast roll using milk, it is critical to scald the milk first in order to destroy the milk proteins, which may cause the rolls to be hard and dense rather than fluffy. For optimal temperature control, bring the milk to a boil on the burner and then let it cool to just below room temperature.