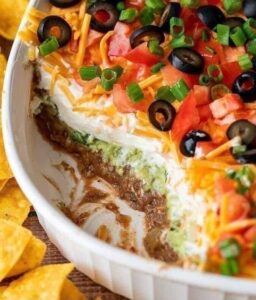 Ingredients:
1 can of refried beans.
2 tablespoons of taco seasoning (homemade or store-bought).
1 cup of guacamole.
1 cup of sour cream.
1 cup of grated cheddar cheese.
2 Roma tomatoes, sliced.
1/2 cup of sliced black olives.
2-3 green onions, chopped.
Directions:
Step 1
Mix refried beans with taco seasoning and spread at the bottom of a dish.
Step 2
Layer guacamole, then sour cream, and sprinkle with cheddar cheese.
Add sliced Roma tomatoes.
Step 3
Garnish with black olives and green onions.
Step 4
Refrigerate for at least 1 hour before serving. Enjoy with tortilla chips.
Short tips:
– Consider making your personal taco seasoning.
– Follow the layer order for best results.
Variations:
– Add ground meat for a heartier dip.
– Make a vegan version with plant-based ingredients.
– Add heat with jalapeños or cayenne.
Enjoy it!!