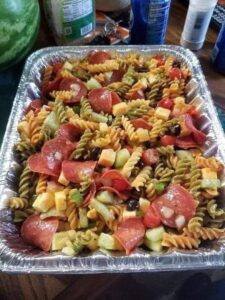 THE INGREDIENTS LIST:
340 grams.Of your favorite pasta.
1 Cup.Of cherry tomatoes, halved.
1 Cup.Of cucumber, diced.
1/2 Cup.Of diced red bell pepper.
1/2 Cup.Of diced green bell pepper
.
1/4 Cup.Of red onion, finely chopped.
1/4 Cup.Of black olives, sliced.
1/4 Cup.Of feta cheese, crumbled.
1/4 Cup.Of fresh basil leaves, thinly sliced.
1/4 Cup.Of fresh chopped parsley.
FOR THE DRESSING:
1/4 Cup.Of extra-virgin olive oil.
3 Tbsp.Of red wine vinegar.
1 Tbsp.Of Dijon mustard.
1 Tsp.Of honey.
2 cloves garlic, minced.
1/2 Tsp.Of salt.
1/4 Tsp.Of black pepper.
PREPARATION:
1st Step
Bring a large kettle of salted water to a simmer, then prepare the pasta according to the instructions on the package until al dente. Drain and rinsing the pasta under cool water will halt the cooking process. This will ensure that the linguine in the salad remains firm and does not become soft.
2nd Step
Prepare the vegetables by dicing the cherry tomatoes, cucumber, red and green bell peppers, red onion, and black olives while the pasta cools.
3rd Step
Preparing the dressing In a separate basin, thoroughly combine the olive oil, red wine vinegar, honey, Dijon mustard, minced garlic, salt, and black pepper. Adjust the seasoning to your liking by adding additional salt or honey.
4th Step
Mix the ingredients together: Combine the chilled pasta with the diced vegetables in a basin. Pour the dressing over the pasta and vegetables and stir gently to ensure that the vinaigrette is distributed uniformly.
5th Step
Finish the salad by sprinkling it with feta cheese crumbles, fresh basil leaves, and chopped parsley. These ingredients will infuse the meal with a blast of acidic and herbaceous tastes, enhancing its overall flavor.
6th Step
Cover and refrigerate the pasta salad for at least one to two hours before serving. Chilling the salad enables the flavors to combine and improves its flavor. Before serving, give the salad a fast stir to redistribute the vinaigrette and ensure that every ingredient is coated.
VARIATIONS:
To make the pasta salad more filling, try adding some grilled chicken, shrimp, or tofu.
If you're looking to change the taste, try substituting mozzarella or goat cheese for the feta.
For more flavor, try roasting some veggies like zucchini or eggplant and adding them to the stew.
Add a couple of tablespoons of mayonnaise or Greek yogurt if you like a creamier dressing.