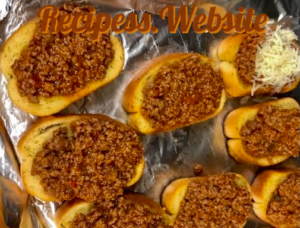 THE BEST TEXAS TOAST SLOPPY EVER!!
Looking for a quick and easy evening supper that everyone will enjoy? Look no further. The Texas Toast Sloppy Joe's recipe is fantastic!
The greatest thing about this delicious dish is that it can be prepared in less than 30 minutes total time and can feed up to 4 people! It was a great victory.
This is an amazing recipe for a quick and simple meal that will have everyone in your family hooked to it since it is just delicious!!! You should give it a try as soon as you can and please don't forget to tell us how it goes with you; I truly like reading your comments to find out what kind of recipes you enjoy!!!!!!!
INGREDIENTS LIST:
Lean ground beef; 1 pound.
2 large chopped Onions.
Garlic powder; I used a ½ t spoon.
¾ Cup.Of Ketchup.
2 t spoons.Of Tomato paste.
½ T spoon.Of Worcestershire sauce.
2½ t spoons.Of Brown sugar.
Salt & ground Pepper, to ur liking.
Green Mill Texas Toast, I used four.
Shredded Cheddar cheese.
INSTRUCTIONS:
In order to have a proper bake, the temperature of your oven should be set to 375 degrees Fahrenheit.
1st Step – To begin, I browned the ground beef with chopped onion on the stovetop over medium heat, and I drained it as early as possible.
2nd Step – In a separate bowl, I mixed the ketchup with brown sugar, tomato paste, Worcestershire sauce, and salt & pepper. And then I gave it a good stir to ensure that all of the ingredients were well-combined.
3rd Step – Once all ingredients are incorporated, I simmer over medium heat until the mixture has thickened to the desired consistency.
4th Step – In the meanwhile, I placed the Green Mill Texas Toast in the preheated oven and roasted it for roughly 5 min, just until the tops were golden brown.
5th Step – At this point, I put the Sloppy Joe Mixture on top of my golden-brown Texas Toast.
6th Step – And the last thing I did, and for me is the key to make your Texas Toast Sloppy Supeeeeer delicious, I spread a lot of shredded Cheddar Cheese on each slice of toast like there is no tomorrow.
Have a fabulous day!!!