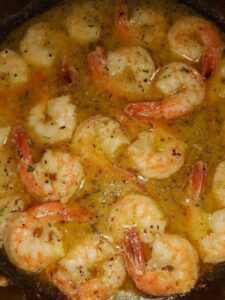 THE INGREDIENTS LIST:
– 500 grams.Of large shrimp, peeled and deveined.
– 2 Tbsp.Of olive oil.
– 2 Tbsp.Of unsalted butter.
– 4 minced garlic cloves,
– 1/4 Tsp.Of red pepper flakes (adjust to your spice preference).
– 1/4 Cup.Of dry white wine (optional).
– Salt and black pepper to taste.
– 2 Tbsp.Of fresh parsley, chopped.
– 1 Tbsp.Of fresh lemon juice.
– For Serving: Cooked linguine or crusty bread (for dipping).
PREPARATION:
Step 1
Ensure that the shrimp have been shelled, deveined, and cleaned. They should be dried off with paper towels before being sprinkled with salt and black pepper.
Step 2
In a big skillet set over medium heat, melt butter and olive oil. Red pepper flakes and chopped garlic are added. The garlic should be sautéed for around 1-2 minutes until fragrant but not browned.
Step 3
Turn the temperature up to medium-high. Put a single layer of the seasoned shrimp in the pan. Cook until pink and opaque, about 1 to 2 minutes on each side. Shrimp may become rubbery if overcooked, so take care not to overcook them. From the skillet, take out the cooked shrimp, and lay them aside.
Step 4
If using white wine, deglaze the pan by pouring it in and scraping off any tasty pieces from the bottom. Give it a minute or two to simmer, cutting the wine in half.
Step 5
Lower the temperature to low. The skillet should now contain the cooked shrimp. Add the chopped parsley and freshly squeezed lemon juice. After thoroughly combining everything, let the shrimp a few more minutes to absorb the flavors. If necessary, taste and adjust the salt and pepper.
Step 6
It's time to eat your Red Lobster Shrimp Scampi. It may be served with warm, crusty bread for dipping into the delicious garlic butter sauce or overcooked linguine.