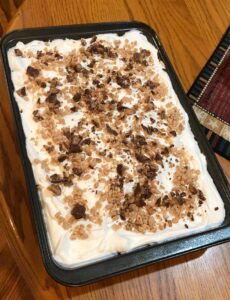 HOW TO MAKE TOFFEE BUTTERSCOTCH POKE CAKE
Not only is butterscotch sundae topping delicious on ice cream, but it also produces FANTASTIC results when used to top poke cakes! In addition to the deliciously crispy toffee pieces, this is an excellent cake for a crowd since it is both quick and easy to make!!
If you are a fan of poke cakes like I am, you will adore this particular recipe since it is simple, straightforward, and comes out delicious every time. The cake is pleasant and light, and the butterscotch and whipped topping elements remind me of summertime ice cream sundaes. Because of these elements, it is an excellent choice for a summer party, picnic, or potluck dessert.
This cake is perfect for me since the yellow cake is one of my favorites, and it's yellow. The texture is supple, buttery, soft, and oh very delicious. When you poke holes in the cake, you allow a combination of butterscotch sundae topping and sweetened condensed milk to soak in. This gives the cake a flavor that is reminiscent of simpler times. Anything butterscotch-flavored brings to mind, my grandmothers.
THE INGREDIENTS LIST:
A yellow cake mix box; I used the 15-ounces box.
3 large beaten eggs.
1 Cup.Of water.
1/3 Cup.Of vegetable or canola oil.
Butterscotch sundae syrup; you'll need a 12-ounces jar.
A medium can.Of sweetened condensed milk.
Whipped topping; I used 12-ounces can, thawed.
1/2 Cup.Of toffee bits.
PREPARATION:
Step 1:
Set oven temperature to 350 degrees Fahrenheit, and prepare a 9×13-inch baking pan by spraying it with cooking spray and lining it with foil.
Step 2:
Put the cake mix, eggs, water, and oil into a large bowl, and then use a handheld electric mixer to combine the ingredients for approximately two minutes at high speed.
Step 3:
After pouring the mixture into the pan that has been prepared, bake the cake for about 23 to 25 minutes, or until a toothpick that has been inserted into the middle of the cake comes out clean.
Step 4:
Once the cake has cooled, use the end of a wooden spoon to make approximately 75 equally spaced holes in the top and sides, going almost all the way through.
Step 5:
Butterscotch topping and sweetened condensed milk should be combined in a medium bowl using a whisk, then poured over the cake in a gradual, even manner.
Step 6:
Use a spatula to gently scrape the top of the cake back and forth a few times to let the filling settle into the crevices.
Step 7:
Cover the cake and set it in the refrigerator for at least two hours, or until it has reached the desired level of chilliness.
Note 1:
It is important to bear in mind that the cake may be stored in the refrigerator for up to four days before it is ready to be served. This allows for convenient preparation in advance.
Step 8:
Before serving, pour the whipped topping evenly over the top of the cake, and then equally sprinkle the toffee pieces over the whipped topping.
Note 2:
In all honesty, the second and third days after baking are when this cake tastes the very finest. It's okay if the whipped topping loses some of its volumes after some time has passed!